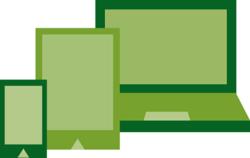 "Everyone from Software Vendors (ISV's) to SMB's to Telecoms should be researching and deploying solutions like DaaS" said Robert Bye, President and CEO.
Overland Park, KS (PRWEB) May 17, 2012
nGenx, a market leader in desktop virtualization, is pleased to announce the technical preview of their new nFinity® Desktop. Starting today, nGenx will be accepting applications for an early preview of the Citrix-powered nFinity® Advanced Desktop. Over the coming weeks, applicants will receive notification of their acceptance into the preview program and will then receive credentials and unlimited access for seven days to experience the next generation platform's speed and functionality.
The nFinity Desktop product suite is based on a growing trend around Desktop as a Service (DaaS). The hosted virtual desktops of yesterday are quickly being replaced with this new faster, more robust solution which can offer all of the comforts of your standard Windows 7 desktop with the added bonus of business continuity, disaster recovery, and access to any application from any device, anywhere you have internet connectivity – all at a price point that is unmatched by any Microsoft compliant solution on the market today.
"Imagine a world where you can work from your PC during the day, open and work on the same applications and documents from your iPad on the road, and then check on your financial dashboards from your Android phone by night. The era of users having the freedom to do business on their terms has arrived" said Robert Bye, President and CEO of nGenx.
"Everyone from Software Vendors (ISV's) to SMB's to Telecoms should be researching and deploying solutions like DaaS" said Bye. nGenx focuses solely on their partner's ability to offer new technologies to their customers via the nFinity Partner Program. Also available is nFinity Consulting, a powerhouse team of Citrix Technology Professionals who can help other service providers design, build, and operate DaaS solutions from within their own Data Centers.
We are quickly moving into a device agnostic world. Bring your own Device (BYOD) and the Consumerization of IT is forcing the technology trends of today and will be for years to come. nGenx has supported these trends for well over a decade and will continue to do so with this newest addition to their product suite.
Please go to http://www.nGenx.com/tech-preview to register and review our terms and conditions. You will be contacted based on submission order over the next few weeks and you will be given priority access to future tech preview events as well.
About nGenx
Since its founding in 2000, nGenx has been a pioneer in cloud computing, working with strategic partners such as Microsoft, Citrix, Intuit, Rackspace and others to develop hosted desktops and applications from the cloud. nGenx solutions include nFinity® Desktop, nFinity® Cloud, and nFinity® Apps which provide access to core line of business and Microsoft Office productivity applications. nGenx markets its solutions through a highly robust channel partner program supported by its nGenx Control Panel, a single pane-of-glass provisioning system that provides partners and enterprise customers complete control over their IT environments. Please visit http://www.ngenx.com