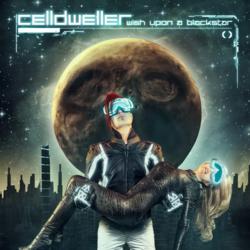 Detroit, MI (PRWEB) May 15, 2012
Klayton is Celldweller. The sensation that has sold more than 100,000 albums and licensed almost every song he has created to TV, Film & Video Games like John Carter, Ghost Rider 2, Mission Impossible III, Real Steel, Iron Man, Dead Rising 2, and others will release his newest album Wish Upon A Blackstar on June 12, 2012. The album's sixteen tracks feature Klayton's deeply honed songwriting ability with an untouchable ear for sonic dynamics. The album will be available at retail outlets such as iTunes, Amazon, Beatport, and Hot Topic as well as available for pre-order today at http://www.fixtstore.com. Download an exclusive free track, "Unshakeable," today at http://www.altpress.com/features/entry/premiere_celldweller_unshakeable.
Not content to utilize his talents only in the studio, Klayton has taken Celldweller around the world in two unique incarnations - a live multi-member stage show as well as a tightly produced DJ Set. Continuous custom filmed & edited video is synchronized to songs throughout the Celldweller catalog that have been revamped, remixed, and mashed up for a completely original experience, that blends today's established styles with tomorrow's revolutions in sound and visuals. This unique incarnation of Celldweller has been documented on a full-length DVD/Blu-Ray and CD album, Live Upon A Blackstar and showcases how Klayton ignores genre boundaries and creates a pioneering vision of the future of electronic music.
"Celldweller is the perfect fusion of Dubstep, Electro, Drum & Bass and Rock. He Represents a unique and futuristic sound that we cannot wait to hear more of." – Dubstep.net
As artists of all stripes struggle to navigate the post-Napster era of music consumption, Celldweller has not only completed a custom-built multi-room studio facility in Detroit, but has also forged an ever-growing media company, FiXT, comprising a record label, an online music & merchandise retail outlet, an online remix community, a publicity wing, and a film/television/game licensing department. When industry megaliths are crumbling at the foundation and indie labels seek, but often lose, solid footing, FiXT is a phoenix rising from the ashes. "If you want something done right, you have to do it yourself" is a phrase that Klayton has spoken since the days before Celldweller, and it is as clear now as it ever has been that Klayton is just getting started when it comes to the innovation with which Celldweller, and FiXT, will usher in a new age of music.