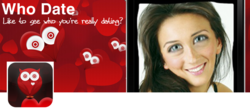 ***** - Fun, smart + something everyone needs!
Los Angeles, CA (PRWEB) May 15, 2012
Date Rater, Inc., the developer of Who Date, has just released the latest update for iPhone, iPod touch and iPad users. Who Date 1.0 provides users with a fun and playful way to rate the success of a date. Dates are rated on a scale of 1-10, based on criteria entered by the user; but the fun part is the image manipulation feature that automatically morphs the subject's image based on the user's rating. Dating results can be shared on Twitter and Facebook, or by email or SMS.
Who Date 1.0 Features Include:

Morphs photo to show your date's true nature
Fun and easy to follow format
Share via Twitter, email, SMS, and Facebook
Calculates dates overall score
Connects to iTunes
Rates dates on a scale of 1-10 according to your "Best Date" standards
In-app purchase of additional date questions
Using this app is simple. Before their date, users enter their "Best Date" criteria and upload a photo of their potential love interest. After the date, the app asks 6 questions about the person they just met. As the user enters their answers, Who Date 1.0 morphs their date's photo to reflect what the app thinks is their true nature. The photo morphs a little more with each answered question.
The app also gives an overall rating of the date on a scale of 1-10. The rating is tailored to each user, as it is based on the criteria they entered before their date. Users have the option of rating up to 4 dates to compare notes, or rating the same person repeatedly, over a number of dates. Since people are often on their best behavior at the beginning of a relationship, it can be very telling to see how a rating changes after 3 or 4 dates!
People often like to brag about a great date, or warn others about really bad ones so their friends don't make the same mistake. Who Date 1.0 lets them do this by posting morphed images and results to Twitter and Facebook, or sharing them via SMS or email.
About Date Rater, Inc
Date Rater, Inc. is a Los Angeles group formed to assist those who need a little help in the dating world. CEO Ronald Kustek, co-creator of Le Petite Retreat day spa and founder of GeriCareFinder.com, designed an app to let people see who they really may be dating. We all make excuses for other people's behavior, so "Who Date" doesn't let you do that while you're dating someone. Who Date is also designed to provide push notifications in the future of dating ideas for a user's area.
Device Requirements:

iPhone 3G or later, iPod touch and iPad
Requires iPhone OS 3.2 or later
3.0 MB
Pricing and Availability:
Who Date 1.0 is a free app, but additional questions are available via in-app purchase for only $0.99, $1.49 and $1.99 (USD). The app is available worldwide exclusively through the App Store in the Entertainment category. Promo codes are available for qualified reviewers. Please specify the website or blog you represent when making your request.
Who Date 1.0
http://www.whodate.co/
Purchase and Download
http://itunes.apple.com/in/app/who-date/id511599280?mt=8
Screenshots and App Icon
http://s1055.photobucket.com/albums/s517/WhoDateApp/
CONTACT
Ron Kustek
Media Contact for Date Rater, Inc
Ron(at)WhoDate(dot)co
323-208-6311