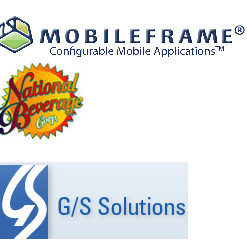 The responsiveness, real-time visibility and flexibility of MobileFrame's DSD application will empower National Beverage to flourish in the current economic climate.
Los Gatos, CA (PRWEB) May 16, 2012
MobileFrame, LLC., the leading provider of Configurable Mobile Applications™ enterprise software, announces that National Beverage Corp., established in 1985, has selected the MobileFrame Platform for their next-generation Direct Store Delivery Application due to its extreme flexibility and ease of use. National Beverage Corp. is a holding company for various subsidiaries that develop, manufacture, market and distribute a complete portfolio of quality beverage products throughout the United States. They currently have 12 manufacturing facilities strategically located in major metropolitan markets across the continental U.S.
National Beverage Corp. knew that in order to remain competitive, the technology that they chose must facilitate sales growth, provide inventory controls, help reduce out-of-stocks, optimize the route sales and delivery rep's efficiency and increase speed to market with new products. National Beverage engaged G/S Solutions, a premier MobileFrame partner, to assist them in optimizing their field workers and warehouse operations. G/S introduced the MobileFrame platform to National Beverage, knowing that it would be a perfect fit for their requirements. National Beverage was immediately impressed with the flexibility of the platform and knew it would be a perfect fit for their Direct Store Delivery operations. G/S is providing a comprehensive solution which includes the MobileFrame platform, application customization and rugged mobile devices.
National Beverage Corp. is reaping many benefits from MobileFrame's Platform for their Direct Store Delivery operations, including but not limited to:

Improved customer service
Reduce days sales outstanding
Accurately track and optimize inventory levels
Ensure delivery and billing accuracy
Use demand data to optimize sales
Optimize pricing and promotions
…and much more
Businesses today are looking for customizable solutions to meet their mobile needs. Companies need the solution to be quick to deploy, reasonably priced and robust enough to meet changing needs to remain competitive in today's market. That's a pretty tall order but MobileFrame's solution more than meets the challenge. MobileFrame's code-free platform affords National Beverage Corp. a quick and easy implementation as well as the ability to customize their apps for both current and future requirements. MobileFrame's integration with National Beverage Corp.'s backend database gives their mobile workforce current data at their fingertips when they're in the field while at the same time updating the management team with up to the minute information about field activities. MobileFrame's Configurable Mobile Application TM Solution delivers a practical and sustainable solution for any customer with mobile workers in the field.
"Our code-free mobility platform enables National Beverage to easily create, deploy & administer sophisticated custom mobile applications; allowing them to leverage their investment to automate other aspects of their business (such as time tracking, asset tracking, etc) at no additional cost".
-Lonny Oswalt, MobileFrame CEO
"The responsiveness, real-time visibility and flexibility of MobileFrame's DSD application will empower National Beverage to flourish in the current economic climate".

Mike Maiman, G/S Solutions CEO
To learn more about MobileFrame's Direct Store Delivery Application, check out our demo at:
http://www.mobileframe.com/Solutions/DSD.html
Watch the G/S Mobile Solutions Video at:
G/S Mobile Solution Overview
About National Beverage
National Beverage is highly innovative, making it unique as a pace-setter in the changing soft-drink industry. Its lineup of refreshment products including – energy drinks, fortified powders and supplements, and functionally enhanced juices and waters – are geared toward the lifestyle/health-conscious consumer.
Shasta® – Faygo® – Everfresh® and LaCroix® are aligned with Rip It®energy products to make National Beverage . . . America'sFlavor•Favorite – soft-drink company.
For more information visit: http://www.nationalbeverage.com
About MobileFrame
MobileFrame is the leading provider of Configurable Mobile Applications™ enterprise software that requires no coding or programming to create, deploy and remotely manage sophisticated mobile applications. With secure SOX compliant instant messaging, remote device control, configuration and management, intelligent networking, remote software updates, prioritized synchronization, automatic device driver recognition and loading all built-in, MobileFrame's platform significantly streamlines mobile application development, deployment, and administration. MobileFrame eliminates custom programming through an intuitive, user-friendly point-and-click graphical user interface, enabling novice computer users to quickly create and deploy custom mobile applications tailored to their business.
MobileFrame's award-winning mobility platform is an entirely self-contained mobility solution that provides full functionality out-of-the-box, with no custom programming, no third-party mobile gateways, synchronization engines or SDK's required. MobileFrame's software allows users to capture photographs, voice notes, documents, templates, logos, sketches, digital signatures, bar code scans, magnetic strip read outs, RFID tags, advanced algorithmic functions, and attach them directly into their mobile applications. Applications are stored in a library so administrators can quickly make changes whenever operational requirements change, enabling on-the-spot deployment of a wide variety of mobile applications.
For more information, customers may contact MobileFrame directly at 1-408-885-1200 or visit our website at http://www.mobileframe.com.
About G/S Solutions
G/S offers solutions tailored to the client's individual requirements with leading edge products and services. They have unparalleled expertise in mobile process automation, industry best practices and deployment methodology. Their solutions are being used by mobile workers engaged in Field Sales, Service and Delivery activities.
G/S Solutions is a full-service partner offering the expertise to design, implement and support the most effective hardware and software systems available. Our flexible leasing options make acquisitions and upgrades affordable for your budget. Since 1981, G/S Solutions has managed successful implementations and developed satisfied customers across many industry sectors, including manufacturing, distribution, field service and retail.
For more information visit: http://www.gssolutions.com
# # #
Contact:
Danielle M. Mora
MobileFrame LLC
(408) 885-1200
dmora(at)mobileframe(dot)com