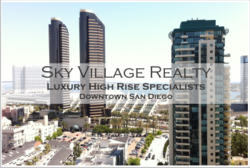 We see our business as one of relationships. Our goal is to cater personalized real estate services focusing on personal service and attention.
San Diego, CA (PRWEB) May 16, 2012
Sky Village Realty announced today the launch of its newly redesigned San Diego Real Estate website.
With years of research, listening to the opinions and interests of clients and customers alike and after months in development applying the latest technology in Real Estate search and transaction management, Sky Village Realty launched its newly revamped site to meet the needs of buyers of Downtown San Diego Real Estate.
The main focus of the website is ease of navigation and innovative technology so that users can find what they are looking for in just a few clicks. With hundreds of pre defined searches, simple and advanced home search modules, original content and innovative photographic menus, buyers of San Diego Real Estate can shop for homes in a way they never experienced before.
Sky Village's site include detailed information, photos, videos and property listings for sale and rent for every downtown San Diego neighborhood and for all the residential buildings in the city including apartment, condo and loft complexes. The innovative "lifestyle choices" tool allows users to search for things to do and places of interest like shops, restaurants, grocery stores, gas stations, banks, etc around every downtown San Diego neighborhood and around every condo, apartment and loft complex in the area.
"When you purchase a property in downtown San Diego you are not just purchasing an asset but you are buying into a lifestyle. We thought it was extremely important for potential buyers searching online to be able to see what lifestyle choices are available to them around the different neighborhoods and buildings in San Diego" says Gonzalo M. Vidano, Broker at Sky Village Realty San Diego.
Sky Village Realty's home search tool allows users to fully customize their property search using typical search parameters found in most Real Estate websites (price, zip, code, beds, baths, etc) but Sky Village takes it to the next level by implementing customized search options that buyers of downtown San Diego condos really appreciate. These include custom searches by building name, HOA fee range, features and amenities, views, short sale and foreclosure specific search and more. Searches can be saved and updated results emailed to the user every day.
Gonzalo Vidano says "We see our business as one of relationships. Our goal is to cater personalized real estate services focusing on personal service and attention. If our clients and customers ask for something we will most definitely listen to their needs in detail, adopt new technologies and processes and deliver what they want. Our website today is the result of years of listening and we are proud of it".
Loaded with informative articles, useful tools and resources, blog posts that are relevant to the downtown San Diego market and stunning original photography Sky Village Realty has set a new standard for home search websites in San Diego.
Sky Village Realty is a boutique Real Estate agency in downtown San Diego specializing in luxury condos in downtown San Diego most specifically San Diego high rise condos.