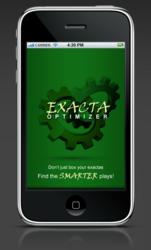 "If you are playing exactas without this tool, you are playing at a disadvantage"
Sewickley, Pennsylvania (PRWEB) May 16, 2012
Exacta Max eliminates the drudgery of hawking over the exacta payout table that horse players have dealt with for years. But Exacta Max is more than just automation. Exacta Max also is customizable in ways that demonstrate the app was designed by a horse player, for horse players. The net result is a very powerful tool.
How it works: Exacta Max will take E-Ponies.com computer picks (integrated with Exacta Max), tote board favorites, or user selected. User sets the per-race bankroll. Exacta Max will take it from there. Using real-time tote board data, updated every minute, Exacta Max will find the best exacta wagers. As post time approaches, Exacta Max has an indicator light that turns yellow, then red, indicating the exacta payouts are becoming stable. When the light turns red, the user can place his wagers. It is that simple.
Because Exacta Max is on the iTunes App Store, users cannot wager directly through Exacta Max. Users would need to have access to some other wagering platform.
The user configuration options on Exacta Max are very insightful. Exacta Max will take input from E-Ponies.com, the tote board favorites, or user generated. The number of horses to optimize can be set to 3, 4, or 5. The user can also designate whether to spread wagers flatly across the favorable exacta combinations or spread proportionally based on expected value.
This is a very clever application that masks powerful function behind a simple, attractive user interface. Since going live on the eve of the Kentucky Derby, Exacta Max has received favorable reviews. Exacta Max covers thirty popular tracks in North America and requires a $2.99 per month subscription.
E-Ponies.com has long been an innovator in the horse racing business. Exacta Max makes the fifth iPhone app available from E-Ponies.com. The first such, One Click Pony, has been a very popular download amongst horse racing fans and has cracked the top ten paid sports apps on the first Saturday in May two years running. Earlier this year, E-Ponies.com launched their first iPad app, Home Tote Board.
Available now on the iTunes App Store