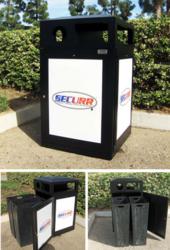 We found that many advertisers were unwilling to purchase ad space on garbage cans. Yet, many were interested in buying ad space on recycling bins
(PRWEB) May 15, 2012
California-based trash and recycling receptacle manufacturer, Securr, was granted a patent on March 6 for its new receptacle design. The outdoor advertising receptacle, which is a combined trash can and recycling can designed to hold advertisements on all four sides, is capable of holding up to 64 gallons of trash and recyclable materials.
"We found that many advertisers were unwilling to purchase ad space on garbage cans. Yet, many were interested in buying ad space on recycling bins," said Securr President David Moore. "Of course, from a practicality standpoint, trash cans are a necessity. So, our answer to this problem was to create a new advertisement receptacle that combined the two."
With its changeable top, the receptacle can be configured to serve as two refuse cans, to recyclables cans or one of each. Known as the HS64 Ad Recycling Can, the receptacle offers styrene advertising panels on a powder-coated frame. This design ensures the ad inserts are kept safe from damage, while the receptacle's locking mechanism helps prevent vandalism.
"Creating a durable product was of the utmost importance," continued Moore. "Since these receptacles are meant to be used in high-traffic areas where they will get a lot of use, it is important for them to be able to hold up to regular use."
The HS64 Ad Recycling Can also features side panels with channels designed to make it easier to switch out advertising panels. To help avoid back injuries, the waste can also has a side opening service door, allowing the waste to be removed from the side rather than being pulled out from the top.
Made with a heavy-gauged galvanealed steel frame, the HS64 Ad Recycling Can weighs 170 pounds and measures 46" x 26.5" x 26.5". The receptacle is available in fir green, black, olive green, sky blue and brown colors. To learn more about the HS64 Ad Recycling Can, visit Trash-Cans.com at http://trash-cans.com/HS64_Advert.htm.