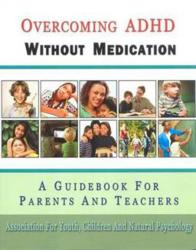 "An excellent read that should very much be considered by concerned parents." Midwest Book Review
Newark, NJ (PRWEB) May 16, 2012
Two to three million children are diagnosed with Attention Deficit Hyperactivity Disorder (ADHD) in the United States. There is much evidence that many non-pharmaceutical strategies are effective in helping children and teens overcome ADHD.
ADHD is over-diagnosed and stimulant medication to treat ADHD is overprescribed. However, there is a great deal that both parents and teachers can do to help children overcome symptoms of ADHD without medication.
"Overcoming ADHD Without Medication: A Guidebook for Parents and Teachers" endeavors to address the need for a concise, well-researched book which provides parents with an understanding of what ADHD is; what causes ADHD; non-pharmaceutical self-help, professional and educational strategies that help; and what parents and educators can do in terms of prevention. Prevention is an important and often overlooked element of good long-term mental health.
The use of stimulant medication for ADHD, while it does help some children and adolescents for a limited period of time, can also cause strong side-effects, which is the primary reason why many parents are hesitant to allow them to be prescribed for their children. Many times, the side-effects can be serious. "Overcoming ADHD Without Medication: A Guidebook for Parents and Teachers" provides a detailed, realistic look at both the effectiveness of stimulant medication, what they can and cannot do, and their side effects.
There are many environmental factors that can affect a child's or teenager's mental health: excessive television viewing; over-indulgence in violent video games; excessive amounts of time listening to intense music. These can all affect a child's or teenager's mental health and their ability to concentrate. Not surprisingly, some of these effects are related to ADHD and depression. Parents, teachers and school administrators should be aware of these influences and attempt to lead and guide children into activities that enhance good mental health.
Adults should supervise children in spending time outdoors in various forms. Green Therapy activities and exercise, as well as art activities, such as drawing and painting, can help children to focus and improve their mood. Professional non-pharmaceutical therapies such as Talk or Interpersonal Therapy, as well as Cognitive Behavioral Therapy (CBT), have been demonstrated to positively affect ADHD and depression symptoms in teens and children. 
Overcoming ADHD Without Medication features supplementary material from Iowa State University researchers on violent video games and how they affect symptoms of ADHD and aggressive behavior. Illinois State University professor Daniella Barroqueira, Ph.D., who herself has ADHD, relates her experiences with the positive effects of art for those with ADHD, for both herself and her students. A number of public school educators and public school mental health professionals, as well as teachers and special education teachers, share their insight. Additionally, Duke University professor and researcher David Rabiner, Ph.D. provides his research on the subject of ADHD and stimulant medication, as well as childhood depression.
This is a well-researched, easy to read and concise guide for parents and teachers, which has been produced by the Association for Youth, Children and Natural Psychology, of Newark, NJ, a New Jersey non-profit corporation rooted in public school education. 15 photo-illustrations and five charts and graphs are included, as well as an extensive bibliography and index. A recommended reading and resources section is included, as well as an ADHD - Mental Health Checklist for parents. Numerous clinical studies are cited. 128 pages. Paperback.
Feel free to contact the AYCNP at aycnp(at)winmentalhealth(dot)com. Free review copies in PDF form are available for a limited time on the AYCNP website. http://www.winmentalhealth.com/ADHD-book.pdf - ACYNP also offers pages featuring the best psychology books for self-help and non-pharmaceutical mental health interventions, and best books for children, featuring approximately 200 carefully selected books of all types for children from pre-school through their teen years.
May 15, 2012 - "Overcoming ADHD Without Medication: A Guidebook for Parents and Teachers" is available in bookstores, and for libraries through distribution by Cardinal Publishers Group, Indianapolis, IN. http://www.cardinalpub.com/ phone: 317-352-8200 fax: 317-352-8202 - customerservice(at)cardinalpub(dot)com.
It is available online to the public from most major online booksellers.
Further information can be obtained from NorthEast Books & Publishing, Newark, NJ website: http://www.northeastbookspublishing.net