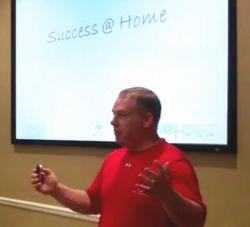 Although I knew obesity was negatively affecting my health, it wasn't until this moment that I realized the affect it was having on those around me.
Hilton Head, SC (PRWEB) May 16, 2012
For over 35 years, Hilton Head Health (H3) has helped thousands of men and women combat obesity through its proven weight loss program which provides participants the tools, knowledge and practice needed to lose weight and maintain a healthy weight, lower cholesterol and blood pressure levels, and even manage diabetes.
The HBO special "Weight of the Nation," which aired May 14 and 15, prompted many viewers who are struggling with obesity, diabetes and other related health problems to pick up the phone and call for help. H3 staffers anticipated the jump in calls and have been ready to assist with weight loss program information, as well as success stories of recent program participants.
"People are looking for answers and for help," said H3 Diabetes and Nutrition expert, Bob Wright. "When someone has tried so many times to lose weight or to change their lifestyle without success, it takes courage to try one more time. We're thrilled that people are aware of our program and are looking to us for help."
Recent Guest, Karen McCarty, is one of many who has benefited from participating in the Hilton Head Health program. McCarty's story is all too familiar among today's society – she had a sedentary lifestyle and poor eating habits, which led to gradual weight gain. During a visit to her physician, she was diagnosed with diabetes. At that moment, she knew she had to make a lifestyle change and take charge of her health by managing the disease through diet and exercise.
McCarty participated in the H3 Healthy Lifestyle™ program for three weeks and in that short time, she lost 5% of her body weight and lowered her glucose levels to within the normal range. "I was scared when my doctor told me I had diabetes and would have to take medication for the rest of my life," says McCarty. "I knew I had waited too long to start putting my health first and Hilton Head Health showed me exactly what to do—from food to fitness—in a manner in which I could understand and is easy for me to maintain while at home."
Watch McCarty's full testimonial to see how she took control of her diabetes through the lessons she learned while in the H3 Healthy Lifestyle™ program.
Another recent Guest, Lyle Orr, also found success in the Healthy Lifestyle™ program.
"My wake up call literally came when I noticed a note placed under my door while traveling on business," said Orr. "The note said 'You snored ALL night long—we didn't sleep much—you need to get help.' Although I knew obesity was negatively affecting my health, it wasn't until this moment that I realized the affect it was having on those around me. H3 was the jump start I needed to start taking care of myself."
In 2011, Orr visited H3 for four weeks, during which he lost 23 pounds and eight inches. Orr signed up for the H3 @ Home Wellness Coaching program to help him stay on track and within one year lost over 130 pounds.
Orr shares his weight loss secrets in a video presentation given to H3 guests. Watch his presentation on Hilton Head Health's daily blog at http://www.H3Daily.com.
"One of the most rewarding parts of my job is to be able to see the positive changes within our Guests and the lasting impact on the quality of their lives," said Wright. "I've had the pleasure of working at H3 for over 30 years and it never ceases to amaze me how determined and motivating the Guests are to one another, and how the leaders at H3 are constantly enhancing the program to meet each Guest's needs."
Hilton Head Health was selected to be featured on A&E's weight loss docudrama, HEAVY, which aired in January 2011. Unlike other weight loss series, HEAVY was not a competition, rather an in-depth look at the personal struggles, triumphs and transformations of twenty-two individuals who struggled with obesity. In order to most accurately document these multiple journeys over the course of six months, A&E sought out two different production companies and locations to undertake the lengthy and ambitious filming process. Twelve participants began their journey at H3, while ten others participated in a program in Texas.
The H3 Healthy Lifestyle™ program is an all-inclusive program that provides participants with essential weight loss strategies for lasting change. Each program experience and length of stay is dependent on individual needs and health goals. H3 offers an informative yet relaxing retreat that caters to those focusing on weight loss and those looking for a healthy getaway. The program features interactive sessions and group discussions ranging from portion control and stress management, hands-on cooking classes and demonstrations in the new H3 cooking school, the Culinary Arts Center, and a variety of fitness classes and island excursions such as beach boot camp, kayaking in the marsh or bike riding through the forest preserve.
To learn more about all the programs H3 has to offer, visit http://www.hhhealth.com or call 800-292-2440.