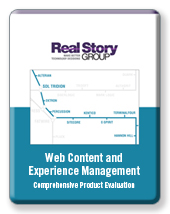 Open source alternatives are not in fact free
Boston, MA (PRWEB) May 15, 2012
An increasing trend toward commercialization of open source Web Content & Experience Management (WCXM) solutions is narrowing the gulf between open source and proprietary business models, according to an updated evaluation report released today by independent analyst firm, The Real Story Group (formerly CMS Watch).
RSG's evaluations cite greater sophistication among open source WCXM vendors as they strive to turn their technologies into revenue-generating offerings through support subscriptions, add-on modules, and implementation fees.
"At the same time," notes RSG Senior Analyst Irina Guseva, "we're also seeing savvier customers recognize that open source alternatives are not in fact free, and typically require similar amounts of investment compared to what proprietary WCXM systems require."
These findings come from Version 21 of Real Story Group's Web Content & Experience Management Evaluation Stream, which provides detailed, in-depth critical analyses of 35 major WCXM suppliers from around the globe.
The Real Story Group observed heightened levels of commercial activity among open source WCXM vendors:

Acquia is becoming a major commercial arm for Drupal, providing greater advisory services amid a global vacuum of Drupal talent
DotNetNuke is using venture funding to expand its partner channel, although the system's suitability for enterprise deployments remains questionable
eZ Systems has concluded several acquisitions, increased its pricing, and introduced new support options
Hippo has gone on a hiring spree, although its penetration of the North American market remains slow
WordPress, an increasingly popular publishing tool, garners ever-greater installs, opening up opportunities for commercial consultants and theme designers
Several open source WCXM platforms remain staunchly community based, mostly notably Joomla!, Plone, and Typo3.
"Organizations evaluating WCXM vendors should note key differences between commercial and community-based open source models," notes RSG Analyst Matt Mullen. "There are pros and cons to both approaches, but the growing commercialization of the segment overall certainly narrows the gap between open source and proprietary solutions."
About The Real Story Group
The Real Story Group provides research and advisory services to support end users through content technology selection and implementation. Through highly detailed technical evaluations, Advisory Papers, and other premium services, The Real Story Group helps sort out the complex technology landscape, so that you can minimize time and effort identifying technologies suited to your particular requirements. To retain its independence as an impartial analyst firm, The Real Story Group works solely for solutions buyers and never for vendors.