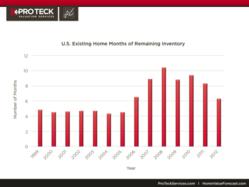 "One of the most important developments in the past year for the residential real estate market has been the significant decline in the inventory of homes for sale," said Tom O'Grady, president and CEO of Pro Teck Valuation Services.
Waltham, MA (PRWEB) May 15, 2012
Pro Teck Valuation Services' May HomeValueForecast.com Update explores important housing indicators, such as the number of home sales and months of remaining inventory (MRI) and their impact on home prices nationwide and in select markets. May's HomeValueForecast.com demonstrates that many metro areas hardest hit by price declines may be recovering due to increasing home sales and reduced inventories of homes. Also, the U.S. housing market is stabilizing according to leading MRI indicators.
"One of the most important developments in the past year for the residential real estate market has been the significant decline in the inventory of homes for sale. Nationally, the number of homes currently listed are down 21 percent from a year ago," said Tom O'Grady, president and CEO of Pro Teck Valuation Services. "This month's HomeValueForecast.com shows that for a number of widely followed markets, the declines in housing stock are even greater. It's noteworthy that Phoenix, Miami, Atlanta, Orlando, and Riverside-San Bernardino, some of the hardest hit metros with regard to price declines since the market peak in 2006, are topping the list."
HomeValueForecast.com also found that various levels of MRI correspond to market condition terms. For example, with inventories between 0-5 months, a "Strong" market is determined, whereas metro areas with inventories on the market from 16-20 months would still be considered "Weak."
O'Grady also reported that nationally, the MRI is 6.3 months and is the lowest level since 2006. This indicates that the overall U.S. market is stabilizing according to the monthly update. "Also, the months of housing inventory remaining nationally was at or below the 5 month threshold throughout the 2002 to 2005 period when nationwide home prices where experiencing their largest gains," he said.
In addition, this month's HomeValueForecast.com included a listing of the 10 best and 10 worst performing metros as ranked by our market condition ranking model. The rankings are run for the single family home markets in the top 200 CBSAs on a monthly basis to highlight the best and worst metros with regard to a number of leading real estate market indicators, including: number of active listings, average listing price, number of sales, average active market time, average sold price, number of foreclosure sales, and number of new listings.
"In May, contrary to other housing reports, the "Rust Belt" states including Michigan and Illinois are seeing positive trends due to significant declines in active listing counts over the past year," said Michael Sklarz, Principal of Collateral Analytics and contributing author to HomeValueForecast.com. "This has led to most of these markets having balanced or tight markets based on their Months of Remaining Inventory values."
May's top CBSAs include:

Boise City, Nampa, ID
Dallas-Plano-Irving, TX
Warren-Troy-Farmington Hills, MI
West Palm Beach-Boca Rotan-Boynton Beach, FL
Detroit-Livonia-Dearborn, MI
Peoria, IL
San Jose-Sunnyvale-Santa Clara, CA
Salt Lake City, UT
Cape Coral-Ft. Myers, FL
Fayetteville-Springdale-Rogers, AR-MO
"On the flip side, a high percentage of the bottom-ranked metros are located in the Northeast. All of these locations have double digit Months of Remaining Inventory," added Sklarz. "Also, prices in these metros have held up much better since the market peak in 2005-2006 compared to the current top ranked markets. We believe that the relative rankings in the bottom ranked metros are not offering the same bargains – in terms of compelling prices and high rental yields – as the top ranked ones."
The bottom CBSAs for May were:

Winston-Salem, NC
Virginia Beach-Norfolk-Newport News, VA-NC
New York-White Plains-Wayne, NY-NJ
Norwich-New London, CT
Hartford-West Hartford-East Hartford, CT
Newark-Union, NJ-PA
Duluth, MN-WI
Nassau-Suffolk, NY
Poughkeepsie-Newburgh-Middletown, NY
New Haven-Milford, CT
Highlighting HomeValueForecast.com's belief that all real estate trends are local, May's analysis also shows that the West Palm Beach-Boca Raton-Boynton Beach, FL CBSA, which is currently in the list of the Top 10 metros is no exception to have experience significant price declines since the market peak in 2005-2006. According to HomeValueForecast.com, the price peak in this metro occurred in the 4th quarter of 2005 and prices have since declined 52 percent.
"Like any market, bargain prices will bring out buyers – this is clearly happening in the West Palm Beach CBSA," added Sklarz. "Nearly all of the important market indicators are showing positive trends on a year-over-year basis including declining inventory, declining market times and less distressed sales activity to name a few."
HomeValueForecast.com's unique micro market data provides timely and comprehensive information on sales, listings, and off-market activity for 90 percent of the U.S. housing stock. This data enables Pro Teck to provide home price indexing, forecasting, and market analytics from a national, regional and ZIP/neighborhood level. For the full monthly update, check out http://www.HomeValueForecast.com.
Reporters who are interested in national, regional or metro level housing data tailored to meet story needs, please email your inquiry to mediarequest(at)protk(dot)com
About HomeValueForecast.com
HomeValueForecast.com was created from a strategic partnership between Pro Teck Valuation Services and Collateral Analytics. HVF provides insight into the current and future state of the U.S. housing market, and delivers 14 market snapshot graphs from the top 30 CBSAs.
HomeValueForecast.com delivers a monthly briefing along with "Lessons from the Data," an in-depth article based on trends unearthed in the data.
HVF is built using numerous data sources including public records, local market MLS and general economic data. The top 750 CBSAs as well as data down to the ZIP code level for approximately 18,000 ZIPs are available with a corporate subscription to the service. To learn more about Home Value Forecast and Pro Teck's full suite of residential real estate valuation products visit us at http://www.proteckservices.com.
Media Contact: Janice Walker, JD Walker Communications, LLC
781-290-6528 or jdwalker(at)jdwalkercommunications(dot)com