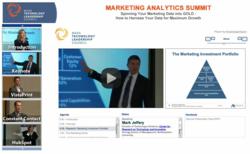 Since its inception, KnowledgeVision has continually broken new ground in the number of ways viewers can interact with online presentations. Now with KnowledgeVision 2.0, those interactions can be tracked and turned into actionable business intelligence.
New York, NY (PRWEB) May 15, 2012
KnowledgeVision Systems has introduced advanced viewer tracking and analytics capabilities to its market-leading system of video online presentation tools. KnowledgeVision 2.0 includes: an updated version of KVStudio, its powerful online presentation creation tool; KVCentral, a new browser-based console for publishing and tracking online presentations in content marketing and e-learning applications; and PresentationCloud (tm), an online space for sharing and tracking presentations.
The new KnowledgeVision tools debuted today at the Streaming Media East conference in New York City, where they were demonstrated in public for the first time. KVCentral and its new tracking tools will be available to clients who purchase or upgrade to KnowledgeVision's Corporate Edition.
KnowledgeVision is an enterprise-quality system for creating, sharing, and tracking video- and audio-enhanced online presentations for desktop and mobile tablet viewing. The typical KnowledgeVision presentation contains: a high-quality video stream; synchronized presentation slides, images and live web pages; just-in-time footnotes and reference links; virtual handouts and downloadable files; interactive navigation chapters; searchable transcripts; and other optional widgets, such as social media tools.
"Since its inception, KnowledgeVision has continually broken new ground in the number of ways viewers can interact with online presentations," observed KnowledgeVision CEO Michael Kolowich. "Now with KnowledgeVision 2.0, those interactions can be tracked and turned into very specific business intelligence for demand generation, lead nurturing, e-learning, and other critical communications applications."
KnowledgeVision 2.0 offers several significant advances over earlier versions of the KnowledgeVision system:
-- KVStudio 4.5 -- KnowledgeVision's advanced online presentation tool can now create presentations so that viewership may be tracked at the individual viewer level, as well across groups of viewers. Multimedia sources have now been expanded to include videos on Brightcove, Ooyala, Kaltura, and Amazon CloudFront.
-- KVCentral -- A brand-new, browser-based console, available to KnowledgeVision Corporate subscribers, will allow authorized users to log in from any device to publish, share, and monitor presentations built with KVStudio. Among other capabilities, KVCentral will allow users to create a downloadable spreadsheet that details each viewing session and how the viewer interacted with the material -- critical to evaluating how engaged each viewer is with the presentation material.
-- KVRegistration -- An optional combination product/service offering from KnowledgeVision, providing a way to control access to presentation material and allow the viewer to register before viewing one or more presentations. This registration data may be used for tracking in KVCentral.
-- PresentationCloud (tm) -- A personal internet-based publishing space for KnowledgeVision users to share and track online presentations, which may be publicly available or kept confidential, private, and secure.
To see an example of a trackable KnowledgeVision presentation published to the PresentationCloud employing KVRegistration, see the Marketing Analytics Summit from the Massachusetts Technology Leadership Council on KnowledgeVision.
"KnowledgeVision 2.0's new capabilities take the role of the online presentation to an entirely new level in both content marketing and e-learning," said Kolowich. "By marrying deeply engaging content with detailed data, KnowledgeVision fits right in with the data-driven world of both marketing automation and learning management systems."
About KnowledgeVision
KnowledgeVision Systems is single-mindedly focused on making online video work harder:
--to make it perform better as a content marketing tool;
--to make it more impactful as a sales tool;
--to make it more engaging as a learning tool; and
--to make it more effective as a corporate communications tool.
Clients all over the world use KnowledgeVision's tools to create orchestrated online video and audio presentations that combine their best communicators with PowerPoint slides, web pages and applications and supplemental material, and make them available from web browsers and mobile devices anytime, anywhere.
KnowledgeVision is a venture-backed company based in Lincoln, Massachusetts.
PresentationCloud (tm) is a trademark of KnowledgeVision Systems Incorporated.