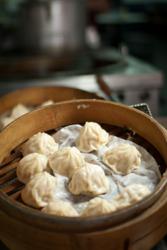 "Our Dumpling Delights food tour takes the guesswork out of finding the city's best dumplings."
Shanghai, China (PRWEB) May 15, 2012
UnTour Shanghai added a new private culinary tour that explores the city's delicious assortment of dumplings. The 'Dumpling Delights' tasting tour complements UnTour Shanghai's five other culinary experiences already on offer.
"Dumplings, in their many different forms and flavors, are not just China's essential comfort food – they are the gateway dish for many foreigners interested in Chinese cuisine. But the sheer variety of dumplings available in Shanghai can be intimidating for the uninitiated," says Jamie Barys, Chief Eating Officer of UnTour Shanghai. "Our Dumpling Delights Shanghai food tour takes the guesswork out of finding the city's best dumplings. We showcase the simple beauty of a well-made dumpling, whether it's handmade pork wontons the size of a dime or slippery rice noodle rolls wrapped around shiitake mushrooms and bok choy."
For more than 2,000 years, Chinese chefs and home cooks have been perfecting dumplings in all their delicious bite-sized forms. On the Dumpling Delights tour, UnTour Shanghai guests will stroll through the charming former French Concession, sampling everything from potstickers fried up street-side to steamers of har gow (delicate Cantonese shrimp dumplings) at elegant dim sum mansions. During the tour's tasting stops, culinary adventurers will slurp the city's famous xiaolongbao (soup dumplings) while also exploring a Shanghai wet market, urban park, and traditional Chinese 'lilong' neighborhood.
UnTour Shanghai's private food tours, including the Dumpling Delights option, are all-inclusive. A bilingual guide picks up guests at hotels and residences around the city. All transportation, food, and beverages during the tour are provided, and guests receive a welcome pack introducing them to the city's dynamic dining scene. The Dumpling Delights tour lasts about three hours and covers a distance of 2km on foot. The cost per group up to six people is US$180 and is all-inclusive.
All day tours are capped at six people (though arrangements for bigger groups can be made upon request), so each guest is sure to have a personalized experience with plenty of guide and vendor interaction at each stop. Each Shanghai day tour is led by a native English-speaking guide who also speaks Mandarin.
For more information about UnTour Shanghai, please visit http://www.untourshanghai.com or contact Jamie at Jamie@UnTourShanghai.com.
About UnTour Shanghai
UnTour Shanghai is an urban adventure tourism company specializing in jogging sightseeing tours, culinary food tours, and cultural excursions. UnTour Shanghai currently offers six private culinary tours to its guests, ranging from Chinese cooking classes to street food adventures to customizable restaurant tours. Thanks to consistently high customer feedback, UnTour Shanghai is rated Shanghai's #1 culinary tour and running tour operator by the users of the popular online travel community, TripAdvisor.
Jamie Barys and Kyle Long created UnTour Shanghai after they became frustrated with the lack of quality tour companies when they had visitors in town. Too often, tour companies take guests to overcrowded tourist spots, leading them around with a flag in one hand and a loudspeaker in the other. An "UnTour", on the other hand, is an art that Jamie and Kyle, both avid travelers who have lived in China for more than eight years combined, have perfected. They avoid hordes of tourists and escape guidebook tedium by exploring authentic back alleys and interacting with residents. With UnTour Shanghai's enticing custom tours, now guests can explore the city like a local and take home unique memories from their trip.