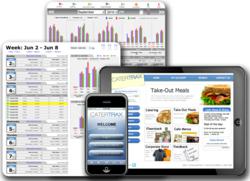 The way in which your product has impacted our business is really quite interesting. Margins have improved by about 17 – 20%.
Rochester, NY (PRWEB) May 15, 2012
On average, users of the CaterTrax Catering Module experienced 15% growth year over year in 2011. The company performed a study as a part of its year-end analysis activities that proved year over year growth for its clients. The CaterTrax platform facilitates growth by streamlining processes, automating procedures, reducing expenditures, and enhancing the customer experience. The module manages kitchen work-flow and event management, while providing an online ordering interface that allows customers to order, manage, and pay for events. This is the company's second year analyzing customer's revenue growth. Some customers like Bill Benson have realized even greater gains.
"The way in which your product has impacted our business is really quite interesting. Margins have improved by about 17 – 20%. We had an interesting scenario in March; we did about $137,000 in events. Prior to implementation of CaterTrax, the miscommunication, lack of controls and processes, would have mandated many hours of overtime for all of the staff. In fact, March was a breeze. We reduced labor expense and realized correct purchasing which had a direct correlation to minimal shrink, etc." Bill Benson, CEO Buckboard Catering & Events.
The Catering Module allows caterers to focus on their core business by improving accuracy and increasing quality while freeing up resources. "Before, 25% of my time was wasted on phone calls. With CaterTrax, 20% of that wasted time was regained." said Enrique V. a Catering Manager. "The CaterTrax tool allows our staff to manage the intricate event details in a consistent manner so we can focus on the true hospitality elements of our client events."
CaterTrax polled data from hundreds of live client sites that recorded sales for twelve consecutive months from January 1, 2010 to December 31, 2011 across all sectors. Then they measured the year-over-year percentage growth from 2010 to 2011 for these sites, considering the date of implementation in relation to the sales data polled. This allowed the company to measure the year-over-year percentage growth in relationship to how long each site had been using CaterTrax. The company discovered its clients' revenues increased 15% on average.
"We're thrilled to see our clients thriving, especially in such a rough economy." said COO and Co-Founder Dan Welch. "Caterers are very close to our hearts. We developed the platform to help us run our own foodservice business better. It worked so well that we decided to sell it; and CaterTrax was born."
Clients aren't the only ones thriving. CaterTrax has seen double-digit growth this year with no signs of slowing down. With over 1,700 implementations, CaterTrax sites processed over $500 million in revenue representing more than 1.3 million events in 2011.The company attributes its success to a focus on innovation and commitment to serving its clients. As evidenced by recent releases (Catering Rooms Manager add-on and the Social Media Bundle), CaterTrax consistently releases modules, add-ons, and enhancements designed to help its clients promote, grow, manage, and sustain their businesses.
"Our objective is no different than when we were in the catering business. It's to create a memorable experience for our guests—in this case, caterers" said CEO and Co-Founder Rich Rund. "We draw on our experience and listen to our clients when we decide how to improve that experience. We're poised to release several more enhancements in the coming months."
About CaterTrax
CaterTrax was created by passionate professionals who understand the realities of managing high-volume food and hospitality businesses. The co-founders started out with a family-owned catering business where they developed efficient processes for managing large-scale food service operations. These processes became the core of their flagship web-based solution, the Catering Module. Currently the company offers four unique yet complimentary modules that seamlessly integrate together. Each module can be personalized and CaterTrax websites can be easily customized.
From managing and tracking catering events to billing, invoicing, and advanced reporting, CaterTrax is packed with amazing features that help users promote, grow, manage, and sustain their businesses. Regardless of market segment, in 2011 clients on average had a 15% growth in sales, revenue, number of orders, and order size after implementing a CaterTrax solution. With over 1,700 implementations of CaterTrax in use across North America every day, they are truly working hard to achieve their vision of improving the lives of caterers, foodservice operators, and the customers they serve.