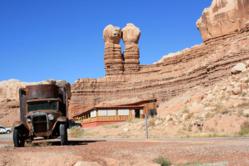 "We have great momentum moving into our second year." --Ryan Heck
Monticello, UT (PRWEB) May 15, 2012
The Second Annual Huff to Bluff Marathon takes place on Saturday, May 19, 2012 on a course certified with the USA Track & Field, making this course a Boston Marathon qualifier. Local runners already know the beauty of running in San Juan County and marathoners from around the world are beginning to recognize it too.
Hajime Nishi from Chiba, Japan will claim the Huff to Bluff as his 614th marathon. He is on a 60-year mission to enjoy running and reporting on 1,000 marathons in 250 countries and regions. In 1997, he became the first person to run marathons on each of the seven continents in seven months. The Wall Street Journal has called him "One of the World's Most Accomplished Runners."
"We have some great sponsors, growth and momentum moving into our second year," said Ryan Heck, the Huff to Bluff race organizer."
The 102 racers who are registered to run in Saturday's Huff to Bluff marathon will travel down Highway 191 from Blanding to Bluff, Utah on the eight foot wide should of the highway heading against traffic. The course heads through the renowned scenery of Utah's Canyon Country, passing by the massive Twin Rocks rock formation and down through colorful Cow Canyon. The course has a noteworthy elevation drop of about 1600 ft, from 6088 ft. at Blanding to 4440 ft. at Bluff, including numerous rolling hills during miles 15 through 22.
Racers, and those who accompany them, of the Huff to Bluff will have the opportunity to visit some of the famed local attractions, including Monument Valley, Edge of the Cedars State Park Museum, Canyonlands National Park, and Natural Bridges National Monument, to name a few.
On Friday evening at 7:00pm at the Blanding Arts and Events Center, another honored guest, Benji Durden, a world-class marathoner and coach, will speak, during after a pasta dinner beginning at 5pm. According to a January/February 2006 Running Times article, Durden came to prominence at the height of American distance running, recording 25 sub-2:20 marathons in less than a decade, with a personal record of 2:09:58. He qualified for the U.S. Olympic team in 1980, was ranked in the U.S. top 10 six straight years, and finished #7 in the world in 1982.
Located in the Four Corners region of the southwest United States, Utah's Canyon County is the heart of the Colorado Plateau with the textbook geology that created its breathtaking canyons and majestic mountains. San Juan County provides a perfect, centralized base of travel to the world-renowned features that surround us. National Parks and Monuments, including Arches, Lake Powell, Natural Bridges, Hovenweep, Rainbow Bridge, Dead Horse Point and Mesa Verde are all within Canyon Country or easy driving distance. State parks include Edge of the Cedars Museum and the great Goosenecks of the San Juan River. All of this and more is easily visited from our excellent selection of motels, lodges, RV parks, campgrounds, and resorts. Fine dining as well as family restaurants complement the visitor experience.
For more information, please contact Jennifer Padilla
JLH Media
505 577 1347
jpadilla(at)jlhmedia(dot)com