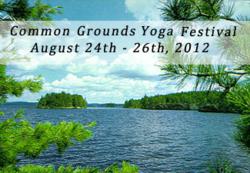 Crane Lake, Minnesota (PRWEB) May 17, 2012
The Yoga and Music Festival will present attendees with a wide array of activities and entertainment. Reservations are now open and can be made online at the official website where the latest Information is being added as guest speakers, musicians, yoga instructors and vendors are confirmed for the event. Folks who are interested in attending may sign up at the website to receive periodic updates.
The Common Grounds Yoga and Music festival has been a true dream in the making. The incredible natural surroundings are definitely conducive to connecting spirit with mind and body. The senses absorb the sounds of nature – the birds singing, animals foraging, gentle breezes fluttering the leaves of the trees, and the sound of water lapping rhythmically against the shorelines. Simply "being" in this environment is a form of meditation.
Of course, there will be yoga classes, led by recognized professionals. Lectures, hikes, a cinema series, meditation and music concerts will be scheduled throughout the weekend. Vendors will be present to offer healthy and delicious food and beverage choices to complement the weekend. In addition, a memorable Saturday night dinner cruise is being planned where garden-fresh vegetables and "just out of the lake" walleye will be served.
The festival will be held on the grounds of Nelson's Resort on beautiful shores of Crane Lake. The fresh vegetables are the star of the Nelson's massive garden which feeds as many as 200 people on an average Saturday night during the peak of the summer season. The garden was featured in an article written by Margaret J. Haapoja for Country Gardens Magazine and it will be featured during the Common Grounds Yoga and Music Festival as well!
Nelson's Resort offers a variety of cabin style accommodations. Within a nearby radius, there are campgrounds, RV parks and many more small resorts. By contacting the folks at the Crane Lake visitors can obtain recommendations for the perfect lodging for couples, groups and families at all budget levels, who wish to attend the event or simply experience a Minnesota Vacation in the north-woods.
The experience promises to be a very restorative one – a chance to leave the everyday stresses behind and to exist in a totally different frame of reference. The Festival experience encompasses one weekend in August, but many guests plan to arrive early, or remain in the area afterward to experience a grander taste of the wilderness. Fishing, berry picking, birding, sightseeing and photography, hiking, boating, swimming and generally soaking up nature as it existed hundreds of years ago, are among the easiest experiences to have in Crane Lake.
Contact http://www.visitcranelake.com or http://www.commongroundsfestival.com for more information.