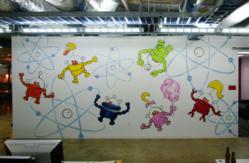 They were open to Anything.
Menlo Park, CA (PRWEB) May 15, 2012
After Facebook moved from Palo Alto to more spacious digs in Menlo Park, they invited a bunch of artists to fill the big empty walls of their new buildings. Facebook's Sales and Marketing Team invited artist Johnny Botts to a mini "hack" with DJ music, food, and games, where their group could participate in painting a mural with him if they were so inclined. "They were open to anything, but told me how Facebook connects people and helps share information. That got me thinking to show my robots connected," Johnny said.
Besides the first mural, Facebook gave Johnny free reign to paint other areas of the building as he was inspired. Over two weekends, he painted his signature robots, rockets, ray guns, and a twenty foot diameter "Wonderball" in the two story lobby.
Mr. Botts learned that David Choe and additional artists were simultaneously painting murals in other Facebook buildings, and that Choe had accepted stock options for his work in 2005 that were now worth around $200 million. Friends asked him if he could also get paid in stock. "It would have been nice," he mused, "but it's great just to be part of a group of artists who have their artwork at Facebook's Headquarters." Clients from all over the world visit Facebook's Sales and Marketing offices, so his work will indeed get noticed.
Johnny Botts is a San Francisco artist who paints playful cartoon robots with a retro sci-fi look. He uses simple shapes and bold colors to tell his stories. He has been painting regularly since 2005.