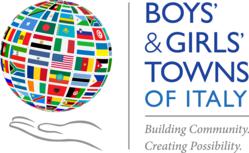 We think Boys' & Girls' Towns of Italy's new logo represents the global community that is the coming together of the young people, their Italian neighbors, and our American supporters
New York, NY (PRWEB) May 16, 2012
Boys' & Girls' Towns of Italy (BGTI), a non-profit that empowers international refugee and at risk youth living on the streets of Italy, launches their new website and logo. The globally recognized international refugee youth advocacy group has also created a new YouTube video to coincide with the re-launch. The organization which was started in 1945 by Monsignor John Patrick Carroll-Abbing - and Americans from all walks of life who provided the funding to build and sustain the Towns - is embarking on their most significant re-branding effort in 60 years, retiring their 'Shoeshine Boy' logo which was made popular from 1952-2011 as well as taking their new name from the combination of Boys' Towns of Italy and Girls' Towns of Italy (formed in 1954). In 2011, the European Union recognized BGTI as a model vocational training program for refugee youth and the organization has long counted among its loyal supporters U.S. Presidents, Hollywood elite such as Humphrey Bogart, Sammy Davis Jr., Lauren Bacall, Frank Sinatra, sports luminaries Joe DiMaggio and Kareem Abdul-Jabbar and royalty such as Princess Diana and Prince Charles.
"We think Boys' & Girls' Towns of Italy's new logo represents the global community that is the coming together of the young people, their Italian neighbors, and our American supporters," said Boys' & Girls' Towns of Italy Executive Director Carrie Sackett. "Our new name, website, and look are more reflective of what it means to be a global citizen in today's world."
The new website can be found online at http://www.bgti.org along with a new, international-inspired logo. Boys' & Girls' Towns of Italy has also released a new YouTube video detailing the innovative approach of the organization which empowers youth through self-government. The young people elect each other Mayor, Judge, Commissioner and together take responsibility for their community. In this way, they develop the vital skills needed to integrate into, and contribute to society as active, self-reliant adults. BGTI boys and girls (aged 13-20) each live on separate campuses (Towns) outside of Rome, Italy. They live in dormitories, receive schooling and vocational training and participate in sports and the arts as well as receive career training in numerous skills and vocations.
Boys' & Girls' Towns of Italy, with headquarters in New York, NY is a volunteer-driven community of Americans committed to empowering refugee youth from across the world. Boys' & Girls' Towns of Italy's single-minded goal is to raise funds for this innovative youth development program with a proven track record of over 65 years. BGTI can also be found on Facebook and YouTube. BGTI is located at 250 East 63rd Street, Suite 204 New York, NY 10065 and can be reached at 212-980-8770.