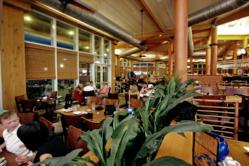 Every seat has a waterfront view
Orange Beach, Alabama (PRWEB) May 16, 2012
Cobalt Restaurant in Orange Beach is now serving every meal of the day with 5-star food. Cobalt has recently added breakfast six days a week, then topped that with a scrumptious Sunday Brunch.
Cobalt, next door to Caribe Resort, is known for its water front views and breathtaking sunsets. Their 5-star menu, legendary food and magnificent location have made Cobalt the "Go To" dinner restaurant for years. Now add a full service breakfast buffet during the week and a Sunday Brunch flowing with delightful cuisine ...... you can be in chef heaven all day seven days a week.
The new additions are the creation of Brian Harsany, owner of Cobalt. Known for his unique menu selections and seasonal specials, Brian put his personal touch to the new breakfast/ brunch items. "I believe we have found the right balance of fresh fruits, traditional favorites and innovative twists that will leave our guests with a pleasant and memorable experience" stated Harsany.
Cobalt didn't leave out the extras that have made them famous on the island. The breakfast has their specialty pastries and breads, while the brunch is accompanied with live jazz music. As always, Cobalt has added special sweet-fare with a delectable French Toast recipe that no one will share. (The attentive wait-staff and brunch chefs would only smile when asked). While tasting the exquisite breakfast and brunch items don't forget that they have a Wine Spectator Award-winning selection of vino, from reasonably priced Champagnes to the elite selection of vineyards.
Cobalt is still famous for their daily dining. Every seat has a waterfront view of the bay. Whether you desire seafood, steaks, custom pizzas or one of the Chef's fantastic specials, Cobalt has an encompassing menu. The renowned chefs use the freshest ingredients and their distinctive talents to bring memorable selections to their guests.
Located on the water in Orange Beach, Cobalt's ambience is unequaled in the area. Picturesque windows provide every guest with a breathtaking view of the bay and Perdido Pass. The restaurant has numerous boat slips to accommodate small boats or even medium-sized yachts, for those who wish to end their sunset trip on the water with a unique dining experience.
The entire family will be excited with the options at Cobalt including the live fish tank and custom gift shop, providing everyone with an indelible experience. The restaurant has a raised bar area so that no one misses the view, as well as a private dining room for groups or business meetings.
Cobalt has set a new standard for dining on the Gulf Coast and the only thing worse than not experiencing the new creations is not sharing it with your friends.
Cobalt is located at 28099 Perdido Beach Blvd. in Orange Beach, Alabama. You can reach Cobalt at (251) 923-5300 or at http://www.cobaltdining.com.