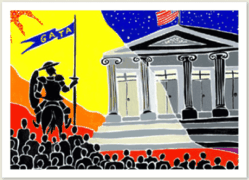 Las Vegas, NV (PRWEB) May 15, 2012
Bill Murphy arrived today in Las Vegas, NV to give a presentation at the Money Show titled, "What The GATA , the Silver-Investor, and Liberty Coin & Precious Metals Recommend Today To Protect Your Wealth". For months now the markets have been toting how the run in Gold is over. Bill Murphy of GATA is back to set the skeptics straight.
At a time when all governments are facing the strain of fiscal shortfalls and finding no other alternatives to their woes than to borrow money into oblivion, the message that Bill trumpets is clear. Buy physical gold and hold it. The other side of his lecture will be equally clear; for those holding onto traditional assets, in the form of currency or stocks, you are not safe.
"The problem that we are facing now is that with the advanced algorithms that control commodities and stocks, real price discovery can not be realized," says Bill Murphy. Excess liquidity in the markets is the only thing sustaining the global financials and once the printing press is turned off there are going to be a lot of disenfranchised people. Take preemptive measure against this trend now and buy physical precious metals.
Bill Murphy will be giving his lecture for all that wish to attend during the Money Show convention on Tuesday, May 15th at 5:30pm in the main exhibitor hall of Caesars Palace in Las Vegas, NV. He will also be at Liberty Coin & Precious Metals booth Wednesday, May 16th at 5:00pm for those avid fans of his that would like to meet him and discuss the market.
Don't miss this opportunity to meet Bill Murphy and the great members of Liberty Coin & Precious Metals. Visit http://www.libertycpm.com or call 1 800 577 COIN for more information.