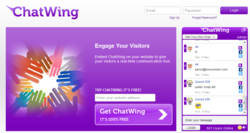 Palo Alto, CA (PRWEB) May 15, 2012
It is evident that HTC has levelled the playing field when it comes to creation and introduction of inexpensive smartphones and trendy tablets. This company has provided innovation to various gadget owners in many parts of the world. Many people were convinced of HTC's wireless reliability. The hustle and bustle of this company has now reached a world-class chat widget known as Chatwing. HTC fans have been visiting the widget lately, exchanging gadget comments and recommendations.
If HTC is providing tools that can enhance the way people communicate, Chatwing is all about the premise of website chat and leverage. Both are very simple to use, and they have features that can attract lots of people. Chatwing's goal is to help people gain a new chatting experience that can bring leisure and information for everyone. It has also integrated Facebook—a strategic feature that has been helping a lot of applications gain footing in the sea of online competition. "Chatwing is simplicity, and simplicity is Chatwing. Today, information travels fast and people rarely has the time to tinker with complex commands or whatsoever. What they need is fast and reliable chatrooms. It's not easy to provide an application like this, but we are serious in delivering efficient service," Says Ivan Diamond, a Chatwing developer and HTC gadget user.
With Facebook, Chatwing users can now log in with their Facebook accounts and send out invitations to everyone. Adding to that, they can also use avatars and emoticons to spice up any conversation with other guests. Chatwing's development team has also noticed that HTC users collect gadget information through the shout box. This act raises Chatwing's popularity and solidifies its grasp in several online communities. HTC avid bloggers and second hand resellers have also been using the free chat box as a way to communicate with visitors and deal with their product inquiries.
About Chatwing.com
Chatwing.com has developed live chat software for websites and blogs. It caters to different online communities due to its high rate of connectivity. Everyone can create a customizable chat box feature in 1 minute or less. Users have the ability to customize the size, color, and fonts of the chat product. The ability to chat via social media accounts such as Facebook and Twitter enable Chatwing to offer a personal and unique real-time experience to all sites. Chatwing is 100% free and very easy to use.