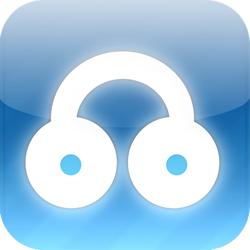 The application is easy to use and even reached Top-50 Free Music Apps
Austin, TX (PRWEB) May 15, 2012
Download the iPhone application by Clicking Here. MoodMusic, Inc. has been at the forefront of the integrated social music scene since 2010 when their Facebook application was released. The application caused a stir with more that 20,000 downloads in 2 months but has since had to be sidelined for recoding.
"Facebook threw us a bit of a curveball by returning to Java, which has left our $85,000 Facebook app on the sidelines but ready for a re-launch. This has been a bit painful because this application along with a MoodMusic.fm website allows for the service to be completely cloud based which of course is what our customers are asking for.
"MoodMusic, Inc. is not simply focused on social radio applications but also expanding into the small to medium market underground music scene, more specifically, unsigned artists. With plans and models to complete the makeover of their 2011 purchase of BuildingBands.com, the company is poised for growth in different spaces. As of Monday May 14, 2012, if the company were to reach the market cap of Pandora, each share a user would receive for downloading the App would be worth just north of $530 a share.
With MoodMusic, you get to connect with your friends and other users to discover new music instead of listening to what an algorithm chooses for you. Change your status with a song instead of words while connecting with your facebook friends so you can listen to the songs they post and vice versa. You can also send and receive songs with individual friends privately through the application.
MoodMusic is a Social Internet Radio App where everyone is a DJ. Our users create the Social Jukebox radio station by using our iDJ feature. MoodMusic allows friends to connect through sharing their music tastes and favorite songs. Continually updating, listeners will be sure to always have access to numerous great songs. No more listening to a set play list that repeats and only has part of the song; instead, let your friends choose your playlist the next time you need a jam session.
In addition to launching the ownership share for download program, MoodMusic has posted a grassroots video on Kickstarter.com whereby people can donate money to receive MoodMusic gear. Hats, bumper stickers and guys and girls shirts are available for varying amounts of donations.