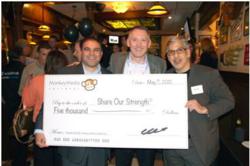 We are proud to channel our energy into supporting this great organization.
Vancouver, BC (PRWEB) May 15, 2012
MonkeyMedia Software, a provider of complete catering solutions for multi-unit restaurant operators, held its first annual party in conjunction with PeopleMatter, at the newly rebranded Bennigan's, in Chicago, on Monday May 7, as the 2012 National Restaurant Association Show came to an end.
During the evening, Erle Dardick, CEO, MonkeyMedia Software, took to the stage to speak about his ongoing campaign to help end childhood hunger in the US by 2015. Through the sale of his book "Get Catering and Grow Sales!™" he aims to raise $100,000 to help end childhood hunger in the US by 2015, and in order to do so, 100% of net proceeds from the sale of his book are donated to Share Our Strength®.
The campaign has currently raised $5,000, and Jim Vinz, Co-CEO of Le Duff America (middle), joined Erle Dardick and Mo Asgari, President of MonkeyMedia Software (left), to accept a cheque on behalf of Share Our Strength®.
When asked about getting involved with the initiative, Dardick said, "At MonkeyMedia Software, we have a culture of working for our higher purpose, while growing our business responsibly. Our team feels blessed to do the work that we do and we believe strongly in the power of community and in the human spirit. We are proud to channel our energy into supporting this great organization."
"We are thrilled to have such strong champions in the industry like Mr. Dardick and MonkeyMedia Software who continue to support our work around Dine Out For No Kid Hungry," says Sheila Bennett, director of Share Our Strength's Dine Out For No Kid Hungry. "Ending childhood hunger is an issue that impacts us all and this book helps to amplify our voice by connecting us to the many restaurants excited to leverage their strengths and join this movement."
About Share Our Strength®
Share Our Strength®, a national non-profit, is ending childhood hunger in America by connecting children with the nutritious food they need to lead healthy, active lives. Through its No Kid Hungry® campaign—a national effort to end childhood hunger in America—Share Our Strength ensures children in need are enrolled in effective federal nutrition programs; invests in community organizations fighting hunger; teaches families how to cook healthy, affordable meals; and builds public-private partnerships to end childhood hunger, at the state and city level. Working closely with the culinary industry and relying on the strength of its volunteers, Share Our Strength hosts innovative culinary fundraising events and develops pioneering cause marketing campaigns that support No Kid Hungry. Visit Strength.org to get involved.
About MonkeyMedia Software
MonkeyMedia Software has developed The Get Catering and Grow Sales!™ Series consisting of strategy, education and software services specifically designed to drive catering sales in the multi-unit restaurant environment. Working closely with each customer's executive team, MonkeyMedia Software develops catering strategies, operational programs and provides software solutions to help drive successful catering revenue channels for multi-unit restaurant operators including Einstein Bros. Bagels, Bennigan's, Ruby Tuesday, Noah's Bagels, On The Border, Boloco, Go Roma, Boudin Bakeries and others. MonkeyMedia Software solutions feature a complete front-to-back system to manage sales, production and supply chain, powerful reporting for real-time visibility and results-based decision-making, a 100% web-based platform that is configured to fit a unique business process and easy integration with current web and accounting systems. For more information on MonkeyMedia Software, visit http://www.monkeymediasoftware.com.
Contact:
Danielle Wolff, Head of Sales & Marketing
MonkeyMedia Software
danielle(at)monkeymediasoftware(dot)com
604.215.2163 x117