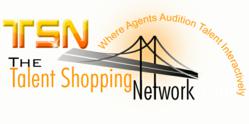 We really do believe we've developed a platform for industry agents to simplify the audition process and for talented people to achieve success.
Tampa, FL (PRWEB) May 15, 2012
Officials from The Talent Shopping Network (TTSN.co) announced this week the launch of a new, comprehensive online audition management and networking system for entertainment industry professionals, the first of its kind providing an online audition-creating, submission, and management platform for agents who are in the business of auditioning and locating talent.
The TTSN.co platform is for agents, managers, and anyone in the business of auditioning and finding talent. The Talent Shopping Network's audition management system provides industry agents with a state-of-the-art program that streamlines the traditional audition process with an intuitive online strategy that includes tools for viewing and scoring each talent, managing the call-back and elimination process and more. TTSN's video conferencing technology allows agents to schedule live online video conference auditions with up to four finalists simultaneously.
TTSN audition management system is expected to transform the way the entertainment industry conducts auditions and casting calls without the expense and time sink that defines the traditional casting and management process.
With TTSN.co, the entertainment industry has its own networking site that includes options for adding talent and other agents to a network, and sharing auditions between casting directors, talent and modeling agencies, A&R directors and the talent themselves. For instance, one networking feature is a "by invitation" closed audition option for agents and talent that offers the privacy many agents look for when casting or auditioning.
Talent agencies and modeling agencies can even forward auditions from their clients to talent in their own network, allowing talent to submit their material directly to their client for review.
Three years in the making, TTSN.co is the brainchild of William Quinones, himself a former dancer and later manager of a singing group who experienced firsthand the challenges of breaking into show business and accessing the opportunities that lead to a successful career in the entertainment industry.
"This platform for the entertainment industry professional is a huge benefit to talent of all types all over the world, because they will be able to create a portfolio with pictures, videos, audio and a biography for agents to review and possibly get added to the agent's network," Quinones said.
"Open auditions are available, and folks can participate in multiple online auditions from wherever they're located; talented people without the resources to fly out to multiple auditions can still participate, regardless of their financial picture."
With more than 50,000 active auditions on TTSN.co right now, the site provides talent with the ability to download audition scripts directly, video record their audition performance and submit it directly to the hiring agent. The site also offers access to a video voice-over recorder and demo song recording capabilities.
For talented performers just starting out, or seasoned performers looking for new work, the first 10 auditions through TTSN are free.
Quinones calls TTSN.co an audition networking system for the entertainment industry, geared toward agents who are provided a comprehensive management system for auditioning for talent and networking with other industry insiders.
"We recognized a need to give talented individuals of all types a new option for gaining exposure, utilizing all that technology has to offer plus the wide ranging scope of the networking sphere," Quinones said. "This site is so comprehensive and provides so much more than has ever been offered in any online talent hub, we really do believe we've developed a platform for industry agents to simplify the audition process and for talented people to achieve success."
In addition to the TTSN.co audition/contest management system, agencies are invited to become part of the TTSN.co strategic partnership revenue sharing program, free for one year, and earn additional revenue as a partner by using TheTalentShoppingNetwork.com to conduct auditions and castings, run contests, and perform other functions. Participants can also share in the subscription revenue generated from using the system and by referring TTSN's management system to other entertainment industry professionals.
For more information about all The Talent Shopping Network programs and opportunities, or to learn more about the strategic partnership program, visit TheTalentShoppingNetwork.com.