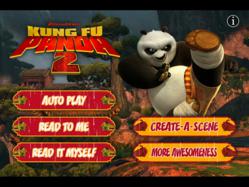 Santa Barbara, CA (PRWEB) May 16, 2012
In recognition of Teacher Appreciation Month, iStoryTime is pleased to announce that its Kung Fu Panda 2 storybook app is now free to download for a limited time. Available on Apple iPhone, iPad and iPod touch, the Kung Fu Panda 2 storybook app is free from Wednesday, May 16 through Sunday, April 20, 2012.
Featuring a digital sticker book, automatic navigation and narration as well as highlighted text to help early readers, the Kung Fu Panda 2 is perfect for engaging children's creativity and encouraging them to read. The storybook is available in English, Spanish, Chinese, German, French, Portuguese, Russian and Korean so teachers and students across the globe may enjoy the adventures of Po.
"Teachers are our super heroes," said Woody Sears, founder of iStoryTime. "They are the foundation of our children's education and we are extremely humble in honoring teachers worldwide by offering our Kung Fu Panda 2 storybook for free."
The Kung Fu Panda 2 storybook follows Po as he lives his dream as the Dragon Warrior protecting the Valley of Peace alongside his friends and fellow kung fu masters, the Furious Five – Tigress, Crane, Mantis, Viper and Monkey. But Po's new life of awesomeness is threatened by the emergence of a formidable villain who plans to use a secret, unstoppable weapon to conquer China and destroy kung fu.
Features Include:

Includes genuine character audio from the motion picture "Kung Fu Panda 2"
Includes real images from the movie for an authentic experience
Includes Create-a-Scene, a digital sticker book with three possible backgrounds and dozens of "stickers" to paste
Includes Save Image functionality to save the image from Create-a-Scene as a picture on your device
Offers Automatic navigation and Narration options for ease of use
Offers Highlighted text to help early readers make associations between the words they hear and see
Pricing and Availability:
The Kung Fu Panda 2 app is available for free for a limited time (Wednesday, May 16 through Sunday, April 20, 2012) from the App Store on the iPad, iPhone or iPod touch and on the Amazon App Store and NOOK App Store.
About zuuka
zuuka publishes zuuka Comics, iTalk and iStoryTime - an interactive storytelling experience delivered to the convenience of your mobile device - which features a series of illustrated and narrated books created by parents for kids. iStoryTime books have been highlighted in the New York Times, LA Times, CBS Early Show, theiPhoneMom.com, CNET and is decorated with Publisher's Innovation Award, PTPA Media's Parent Tested Parent Approved Seal of Approval, the Children's Technology Review's Editor's Choice Award and Reader's Choice for Best Apps for Kids. With over 200 products to choose from, including favorites such as The Smurfs, Puss in Boots, How to Train Your Dragon, WeeSing, Shrek and Kung Fu Panda, iStoryTime apps are excellent tools for both educating and entertaining children ages two years and up. These storybooks can be enjoyed in several different modes ranging from automatic to manual, depending upon the development and preferences of the user. For additional information, visit http://www.iStoryTime.com.