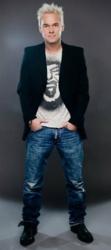 Los Angeles, CA (PRWEB) May 16, 2012
Ray Kay, one of the biggest music video directors in the world, director of the most-watched video on YouTube, Justin Bieber's "Baby" and with videos that have been viewed more than 1 billion times on YouTube, has teamed up with popular European entertainer Kristian Valen to create the music video for Valen's latest single "Letting Go."
Ray Kay and Kristian are revolutionizing the way that music videos are created and distributed with the groundbreaking release of the "Letting Go" music video. With production quality that rivals well-financed Hollywood independent films, Ray Kay and Kristian Valen are showing the entertainment world that untrammeled artists such as Kristian can also create large and expansive music videos, something that previously could only be created by the "big music labels". Filmed in Malibu Beach, California, the "Letting Go" music video tells of a story of forbidden love and how no matter what one may do, they may still be bound to lose in the end.
Both Ray Kay and Kristian, took the musical theme of "Letting Go", and decided that it would make a great contemporary and tragic love story. When Ray Kay first heard "Letting Go", he knew that this song had to be visually expressed in a large and explosive way, and he does that with this collaboration. It is a story that emotionally grabs its viewers, and connects with the artistic and musical talent of Kristian Valen. Because of the compelling background and music for this project, Ray Kay and Kristian were able to convince well-known Hollywood actors such as Taylor Cole (from CSI: Miami), Tracy Scoggins (from NCIS and Castle) and retried English footballer Vinnie Jones, to play major roles in the music video.
Kristian Valen is a comedian, actor, singer and songwriter based from Norway. Valen has created several extremely successful live comedy shows that have to date netted an estimated US$40 million in ticket sales. He was voted "Entertainer of the Year" by viewers of Norway's TV2. Kristian's album, "Listen When Alone", has gone platinum in Europe, and he was invited to perform by Katherine Jackson at "Forever Michael: A Celebration of an Icon", a show that was held to commemorate the one year anniversary of Michael Jackson's death.
Ray Kay is a Norwegian-born director who is currently based in Los Angeles, Miami and New York City. Many popular musical artists have enlisted in the work of Ray Kay in directing and help in creating their music videos; this include Britney Spears, Lady GaGa, Justin Bieber, Beyonce, Steven Tyler, Diddy, Jessie J, Enrique Iglesias, Willow Smith, and Adam Lambert. Ray Kay's music videos have won many different awards, including MTV Video Music Awards, MuchMusic Video Awards and ZTV Awards.
LINK TO MUSIC VIDEO: http://vimeo.com/42155356