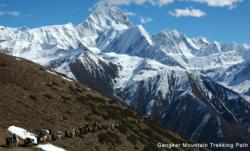 Travelers get to see the beautiful landscape and experience Tibetan culture firsthand.
Lhasa, Tibet (PRWEB) May 17, 2012
Tibet Travel Coop (TTC) is a collection of Tibetan-owned agencies, tour guides, cooks, drivers and other travel personnel. The coop focuses on sustainable practice, responsible tourism, and keeping local business in the hands of Tibetans.
"The trip to Minyak Gangkar and homestays in the Kham area are unique to our organization," a TTC said. "The places we go and the people we stay with are our friends and family, people we've helped train to accommodate tourists through the coop, as part of our mission to improve the livelihood of rural Tibetans. Travelers get to see the beautiful landscape and experience Tibetan culture firsthand. It's a win-win situation."
Minyak is a region southwest of greater Kham and Dartsedo (Kangding) is its capital. The area is located in modern-day Sichuan Province, China. People speak a unique local dialect and have distinct way of living compared to other Tibetans from Kham. Minyak is known for the famous mountain Minyak Gangkar, in addition to its monasteries, ancient murals, and warm and friendly people. This off-the-beaten-track journey is perfect for travelers looking for a unique experience and meaningful interactions with local people and the local culture.
Minyak Gangkar (which means "White Snow of Minyak") is Asia's highest summit east of the Himalayas. For Tibetans, Minyak Gangkar is the sacred abode of both Chenrezig and the Tantric deity Demchok. Along with Kailash, Amnye Machen and Khawa Karpo, it is one of the holiest mountains of Tibet, and embarking on a pilgrimage is a lifetime dream for many Tibetans. For climbers, hikers and adventure travelers, Minyak Gangkar offers both challenge and beauty. With or without the support of horsemen, moderate to strenuous treks can be arranged for up to 7 days.
The optimum seasons for climbing are spring and autumn in conjunction with cultural experiences in the areas: festivals, ancient murals and towers and homestays. Important monasteries in the vicinity of Minyak Gangkar include the Gelukpa monastery of Guwakha Jampaling, which was established in 1556 by Kangri Danbie Nyima, the disciple of the 2nd Dalai Lama; the Karma Kagyu monastery of Gangkar Gonpa, located at the base camp; and the smaller monasteries of Nego, Tongku and Chukmo, which appear to have been originally of Kagyupa provenance, and later absorbed by the Sakya and Geluk traditions.
The Minyak people are a distinct linguistic and cultural sub-group within the Tibetan nationality. They are similar to other Tibetans in that they follow the tenets of Tibetan Buddhism, and live in dispersed agricultural communities growing barley and raising yak.
Tibet Travel Coop is a collection of local Tibetan travel agencies and guides working together to promote authentic travel experiences while contributing to the sustainability of host communities and their culture.