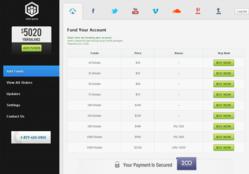 (PRWEB) May 16, 2012
Buy Real Marketing, a world provider of web 2.0 applications is happy to announce its growing user base of 30,000 opting in to their newest development, the client dashboard. The dashboard was created to help clients purchase several social media packages in one spot. It provides a convenient and express alternative to buy Twitter followers, YouTube views, Vimeo views and SoundCloud plays without the hassle of tracking and managing different orders on several websites.
Buy Real Marketing has always been in the forefront of providing clients the opportunity to grow, through social media marketing. Offering services at affordable prices, hiring friendly and competent customer support available 24/7 and providing 100% money-back-guarantee, are few of the many ways the company earned the trust of their clients.
"Trust is the staple of companies to continuously grow in their industry. Consumers buy from services they trust that they know has only their interests in mind. It is not a surprise that with only a few months time after its launching, the client dashboard attracted many of our clients. They know too well that it is for their own benefit we have come up with the idea of integrating all our services, which they continue to patronize," says Managing Director, JP Bisson.
"The client dashboard is in line with our mission to provide clients with a remarkable online experience. We are more than glad to know clients are embracing our latest offering with 30,000 of them actually signing up at the shortest time possible," adds Business Development - Managing Director, Jonathan Kennedy.
Buy Real Marketing has not removed the option of clients purchasing single packages from subpages. The company deems it appropriate to cater to the needs of clients comfortable with single orders and not push them to take the leap just yet.
"We are hoping that more of our clients try the client dashboard to relieve them the difficulty of managing several orders. It is our way of returning their trust and loyalty to our products," adds Business Development - Managing Director, Jonathan Kennedy.
To visit the client dashboard and know more about the company's services, visit their website at http://www.buyrealmarketing.com or contact them at 1-877-435-5955.
About
Buy Real Marketing is owned by Clicking Labs. Clicking Labs is a well established internet marketing company founded in 2010 by Jean-Patrick Bisson, Diana Quartin and Jonathan Kennedy. The company specializes in driving search marketing and social media traffic, social web app development and conversion optimization. Each product or service specifically helps small/medium website owners increase online visibility and improve online sales.