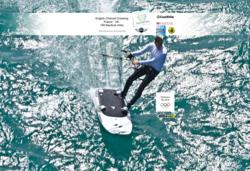 He will attempt to cross 100 nautical miles in under5 hours and 20 minutes.
Brittany, France (PRWEB UK) 17 May 2012
After forced cancellation of his record breaking attempt to kitesurf across the English Channel, Bruno Sroka will cross Thursday Morning, May 17 from bay of St Brieuc (Brittany) to bay of Plymouth (UK). Sroka should be helped by an East south east wind to become the first Kitesurfer to arrive at an Olympic City.
He is bouyed up by strong support on Facebook ( http://www.facebook.com/brunosroka) and Twitter (@brunosroka) and the best wishes of Manu Bertin-the incumbent English Channel kitesurf crossing record holder & pioneers of Kitesurfing.
He will attempt to cross 100 nautical miles, which is not the shortest crossing, but is definitely the most exciting. Manu Bertin holds the current record, and Bruno wants to beat his 5 hours and 20 minutes.
As the London 2012 Olympic Games approach, Bruno Sroka, Champion Kitesurfer is going to mark the occasion with a world record attempt to promote kitesurfing which will be an official Olympic sport in the Rio 2016 Games.
Bruno has been training hard mentally & physically so that he can prove to the world that Kitesurfing deserves a place in the historic event. The 2016 games take place in Rio will be an amazing place to introduce kitesurfing to the Olympics!
About Bruno
Bruno Sroka is France's number one kitesurfer. He has won the Course Racing World Cup 3 times, as well as winning the European Championship 3 times. He is the first and only kitesurfer to cross the Cape Horn by kitesurf. He is also a philanthropist & actively promotes the Green Cross, of which he is an ambassador.
For more information about Bruno, visit http://www.brunosroka.com or http://www.facebook.com/brunosroka
Media Contact:
Alexandre Solacolou 06 75 10 41 56
OR Dee Mauideimi
mauideimi(at)gmail(dot)com
06 52 20 64 47