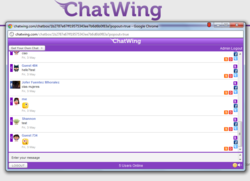 Seattle, WA (PRWEB) May 15, 2012
Posterous, one of the most simplest and famous free-hosting blogs in the Internet, is still gaining ground based on the users signing up for it. Many people prefer its downright simplicity because it is straightforward, unlike other websites that require complicated commands. Now, Posterous bloggers can use an advanced chat widget that can bring a renewed chatting experience. This efficient chat application is known in the blogosphere as Chatwing.
Chatwing has a simple platform in order to help users get the chatrooms higher communication leverage that they need. In fact, Chatwing is created to help bloggers gain online presence in a competitive environment. While other bloggers may go to higher lengths by paying advertisers, Chatwing provides a free option. "There is no need to pay. We believe that applications in a freemium model must have the array of functions same with paid ones. This is the real service we envisioned. Chatwing is all about simplicity and great service," Says Ivan Diamond, a Chatwing developer with a blogging passion.
Chatwing's adaptable chat box is one hundred percent compatible with Posterous blogs. When Chatwing's second version was released, Posterous bloggers have started signing up. The Chatwing development team has also conducted a survey regarding the strong points of the shout box. The bloggers have stated that Chatwing's Facebook log-in option expanded their social horizons by more than eighty percent.
People also loved Chatwing's easy installation feature. In just few seconds, bloggers can install the free chat box and it will go live right away. Chatwing also offers a high rate of customization for its users. As an important keynote for users, Chatwing empowers the premise of website chatting. This is why some entrepreneurial bloggers have used the widget for client relation purposes. Chatwing becomes a real-time communication tool that turns a Posterous blog into an active chatting lounge.
About Chatwing.com
Chatwing.com has developed live chat software for websites and blogs. It caters to different online communities due to its high rate of connectivity. Everyone can create a customizable live free shoutbox in one minute or less. Users have the ability to customize the size, color, and fonts of the chat product. The ability to chat via social media accounts with Facebook chatrooms and Twitter enable Chatwing to offer a personal and unique real-time experience to all sites. Chatwing is 100% free and very easy to use.