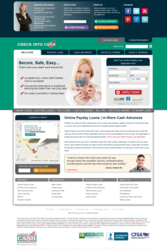 ...website visitors understand their options, the cost of those options, and how to access the credit they need
Cleveland, TN (PRWEB) May 15, 2012
Check Into Cash announces the launch of its new website, which is designed to make it easier for customers from all over the United States to apply for cash advances and payday loans.
Check Into Cash is a leading supplier of short-term credit to American consumers. With its well-established reputation in the field of short term credit, Check Into Cash is a trusted source for payday loans, title loans, and title pawns. Other services offered by the company include check cashing, reloadable prepaid U.S. Money Cards, and walk-in bill payments.
Founded by Allan Jones in 1993, Check Into Cash prides itself on the transparency of its services. The company aims to be a beacon of honesty in what is seen by many as a shady industry. As a founding member of the Community Financial Services Association of America (CFSA), which regulates the payday loans industry, Check Into Cash aims to provide trustworthy service to all those in need of short-term cash advances.
The redesign of the website will make it easier than ever to understand and access affordable short-term credit options from Check Into Cash. "It is our goal that visitors fully understand their options, the cost of those options, and how to access the credit they need." says Martin Pippin, Director of Online Marketing at Check Into Cash. One example of how this is accomplished is through geolocation. "Site visitors are identified by IP address and given information specific to their state. This removes multiple clicks and the opportunity for confusion as users search to find out about what services are available to them."
Contact:
Martin Pippin
mpippin(at)checkintocash(dot)com