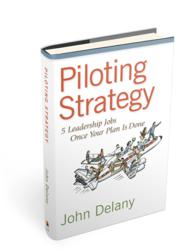 The cardinal sin of many executive teams is that once the new strategy has been created, they go back to their day jobs
Barrington, IL (PRWEB) May 15, 2012
It takes more than simply the right strategy for a business to succeed in today's roiling marketplace. Just after the new strategy is created, says John Delany, author of Piloting Strategy: The Five Leadership Jobs Once Your Plan Is Done, the plan is at its highest risk of failure.
In a new book on strategy for senior leaders, consultant John Delany says that the cardinal sin of many executive teams is that once the new strategy has been created, they go back to their day jobs. Executives tend to worry about creating a new business strategy – what Delany calls "Strategy Formulation" – but that's the easy part. Delany divides the strategic process into three phases: Formulation, Implementation, and Execution. The heart of Piloting Strategy is helping leaders with Strategy Implementation, what Delany calls the hardest, most complex phase of leading a new strategy.
"There are five important jobs for the senior leader between when the new strategy has been completed," he says, "and when the execution of the new strategy begins. The business or organization needs a serious makeover. The leader should expect an interim phase – and it's very intricate work." Metaphorically, leaders must rebuild the airplane while it's still in flight; they must continue to run daily operations while working to prepare the organization for executing the new strategy. Piloting Strategy equips senior executives with the tools to succeed with their new strategy.
John Delany is president of Giraffe, LLC. Prior to starting Giraffe, John held various leadership positions at Arthur Andersen, Sears, and the University of Minnesota. He is a frequent writer, speaker, and facilitator in a variety of business and nonprofit forums. He has a Ph.D. from Yale and a B.A. from Brown. For more information, visit http://www.pilotingstrategy.com.