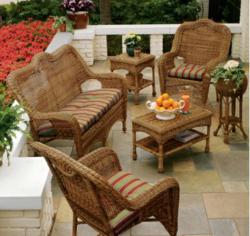 Women today juggle work and family and don't have time to go store to store
Cheektowaga, NY (PRWEB) May 17, 2012
Christmas Central, a leading online retailer of Christmas merchandise and home décor, recently launched DivaatHom.com to accommodate the shopping needs and preferences of busy women. With products ranging from sophisticated to sassy, DivaatHome.com aims to serve all styles and tastes. In addition to the same comprehensive holiday and home décor inventory as is offered at Christmas Central, DivaatHome.com lists chic apparel and accessories, distinctive outdoor living items, and unique home furnishings.
"Women today juggle work and family and don't have time to go store to store," said Nathan Gordon, Christmas Central CIO. "At DivaatHome.com they can shop at home for everything from shoes to patio furniture."
New trendy options at DivaatHome.com include affordable sequin and beadwork purses, colorful high heels, chunky jewelry, and wine accessories. Its home décor section ranges from elegant, classic designs to whimsical pieces with a touch of humor.
DivaatHome.com continues Christmas Central's policy of free shipping to the lower 48 states on orders over $77. Purchases less than $77 are charged a flat $7 shipping cost for delivery to those same states. DivaatHome.com also ships to Hawaii, Alaska, Puerto Rico, and Canada. Details on shipping to those locations are outlined on the website.
About ChristmasCentral.com
ChristmasCentral.com is a division of Gordon Companies, Inc., a family owned and operated business founded in 1977. The company has operated its Cheektowaga, New York flagship store, Dave's Christmas Wonderland, for 35 years, and is now in its second generation. Gordon Companies, Inc. currently offers over 31,000 unique products through its web stores: DivaatHome.com, ChristmasCentral.com, BuffaloGourmetMarket.com, and PatioandHomeDecor.com. Inc. magazine named it the Fastest-Growing Company in Western New York, and lists it in the Top 5000 Fastest-Growing Companies in America.
For more information, or to schedule an interview with Nathan Gordon, please call Brandon Datwyler at (716)558-2847, or email to Brandon(at)Christmas Central(dot)com.