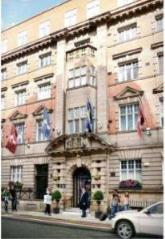 Our 'UK Luxury Apart Hotel Exclusive' provides the safety and security of a proven business model, coupled with an established track record and returns almost unrivalled in today's UK property investment Market - Experience International
(PRWEB) May 17, 2012
Experience International has exclusively launched a new high yield investment opportunity in Liverpool. Fully-managed, a new Apart-Hotel development is currently being offering to investors with a 25% annual NET income - assured in year 1 – and rooms are booked up to 12 months in advance.
A report released by The Office of National Statistics and Visit Britain has shown a rise in the number of tourists visiting Liverpool. This increase in visitors has created a new demand for hotel investments in the city – especially from income investing individuals – which has led to the launch of a new Apart-Hotel development.
Attracting over 545,000 visitors in 2011 alone, Liverpool is now ranked in the UK's top 5 tourist destinations – climbing one space from the previous year. Liverpool has emerged as a popular location for both business and tourist visitors and, with a newly granted £4 billion investment for further regeneration, the popularity of tourism is set to soar.
The city has also experienced a rising demand from group bookings which has in turn boosted the tourist industry and has created a niche for the serviced accommodation market.
According to the Serviced Apartment Report the sector has flourished because of a 'rising demand fuelled by a growing number of corporates mandating the use of serviced apartments and the growing profile of the sector amongst leisure travellers'.
Working in conjunction with London-based Property Company, Experience International, a specialist provider of luxury boutique apart-hotels designed for corporate has launched a new development in Liverpool.
High Yield Investment 25% Net Per Year
For those searching for high yield investment opportunities, this UK property investment provides investors with the opportunity to achieve 25% Net yields.
"This UK property investment combines the exemplary track record of our trusted developer partner with the proven track record of our chosen management company to engineer an innovative investment, which will provide our investors with returns almost unrivalled in today's market," Steven Worboys, MD of Experience International commented.
Identifying a gap in the luxury boutique apart-hotel market, apartments are currently booked up to 12 months in advance and weekends fully booked up to the end of August 2012.
With 45 exclusive luxury 2 bedroom apartments available, investors will secure a 25% annual
NET income - assured in year 1 – and as the investment is returned within 4 years, investors will benefit from this proven business model.
For more information about this exclusive high yielding hotel investment opportunity, please contact Experience International on 0207 321 5858 or email enquiries(at)experience-international(dot)co(dot)uk.