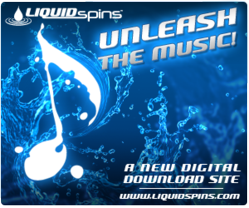 You Get More Music, For Less Money, With No Restrictions
Colorado Springs, CO (PRWEB) May 16, 2012
Liquid Spins is having a music sale. All music on http://www.liquidspins.com is now 10% off. No Restrictions, No Tricks, No Coupon Codes Needed. Just Sweet Savings on all of your favorite music downloads.
Liquid Spins is a brand new music download site with tons of features. The online music store is now offering a site wide discount of 10% off all music. From Lady Gaga, and Bruno Mars, to Lady Antebellum, and Carrie Underwood, it is all available on http://www.liquidspins.com, and it is all on sale for 10% off.
One other major feature of Liquid Spins is DRM-Free MP3 Music. This basically means that customers can put the music they purchase on any device they own. Customers are not restricted to a certain number of devices and they are not restricted to a special kind of software. "Your Music, On Any Device You Own, Using Any Music Software You Want...No Restrictions At All" Christina DeBoard, Director of Corporate Partnerships.
That's right, with Liquid Spins you get more music for less money, with NO RESTRICTIONS.
Join the Evolution Today at http://www.liquidspins.com and Unleash The Music
Liquid Spins is a development stage digital download company with digital distribution agreements with all major US record labels. As a non-traditional distributor on music, we focus on white label brand partnerships, qr code music distribution, interactive music apparel, pincode distribution, and other innovative music distribution methods. All music can be previewed through our main website at http://www.liquidspins.com