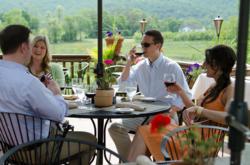 Wine, Food, Art in the heart of Loudoun Wine Country
Purcellville, Virginia (PRWEB) May 15, 2012
May 20th marks a first in Loudoun Wine Country with the opening of 868 Estate Vineyards, a vineyard and wine tasting room combined with a gourmet restaurant with beautiful views of the Virginia countryside. Grandale Restaurant has been an established farm-to-table destination since 2005 for those looking for gourmet, locavore fare on the Loudoun County Wine Trail. Now, 868 Estate Vineyards and Grandale Restaurant have combined to build a world-class destination offering a complete vineyard and culinary experience on the rolling hills and historic farm that surround Grandale Restaurant.
Guests will enjoy a new tasting room serving award-winning wines from Winemaker Carl DiManno that include Pinot Grigio, Rose, Chardonnay, Merlot and others; new landscaping and patios; and a new look for Grandale Restaurant as well, which continues to feature the culinary talent of Executive Chef AJ Clark.
The vineyard contains 120 acres and the highest elevation in the valley - at 868 feet - which gives the vineyard its name. Learn more at 868 Estate Vineyards or Grandale Farm
TASTING ROOM HOURS STARTING MAY 20
Wednesday through Monday 11 AM - 6 PM
Friday and Saturday 11 AM - 7 PM
Tuesday - by appointment
About 868 Estate Vineyards
868 Estate Vineyards is Northern Virginia's newest vineyard and the first to offer a complete vineyard and culinary experience in the heart of Loudoun Wine Country. The vineyard is conveniently located on 14001 Harpers Ferry Road, Purcellville, VA 20132, a comfortable distance from Washington, DC, Baltimore, Maryland and Charles Town, West Virginia.