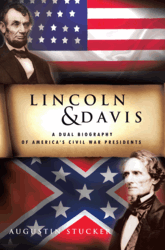 I've always been intrigued by why Davis never achieved the same notoriety as other major Civil War figures.
LIGHTHOUSE POINT, Fla. (PRWEB) May 17, 2012
The story of Abraham Lincoln and Jefferson Davis is the story of our country. Without either of their lives and influence, we would not be the nation we are today. Augustin Stucker reflects on the lives of both men in his new book, "Lincoln & Davis" (published by AuthorHouse).
Stucker says the President of the United States and the President of the Confederacy both worked tirelessly to avoid Civil War up to the moment of Southern secession. Lincoln and Davis were each considered martyrs after leading their nations through the conclusion of the Civil War. This is their compelling story.
"I'm a life-long amateur historian with strong family ties to the South," Stucker says. "I've always been intrigued by why Davis never achieved the same notoriety as other major Civil War figures."
Stucker says he grew up confused by the Southern theory about the "War of Northern Aggression" and the Civil War being fought for "states rights" rather than for slavery. As he got older, his parents helped correct his miscomprehensions.
"My family's heritage established Southern prejudices against Lincoln as the man most responsible for destroying the South and their slaveholding way of life," says Stucker. "Once I realized the errors of what I had been taught, I began researching both Lincoln's and Davis's lives while I was in college. After more than 30 years of collecting research, I finally felt ready to write this book."
Stucker says the stark political events of their era are being replayed across today's America. He compares the political beliefs and practices of Jefferson Davis to the modern Tea Party movement and President George W. Bush's invasion of Iraq to President James K. Polk's invasion of Mexico.
"Lincoln & Davis: A Dual Biography of America's Civil War Presidents"
By Augustin Stucker
548 pages
Paperback 6x9, retail price: $14.18
Hardcover 6x9, retail price: $19.18
ISBN: 9781456794194
Available at http://www.amazon.com and http://www.barnesandnoble.com.
About the author
Augustin Stucker was born and raised in Oklahoma and is a member of the Choctaw Nation. He has written several stage, screen and television scripts. Lincoln & Davis is his first book. He has been married to Peggy Gohl Stucker for 18 years. They live in Lighthouse Point, Florida.
# # #
**FOR IMMEDIATE RELEASE**
EDITORS: For review copies or interview requests, contact:
Brandon Kline
Phone: 928-699-8956
Email: bkline(at)bohlsengroup(dot)com
(When requesting a review copy, please provide a street address.)