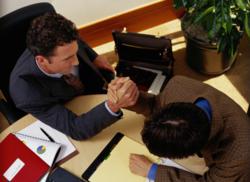 Designers had a seat at the Board table, so to speak. Our talents, skills, and opinions mattered and were seen as valuable to our clients.
Dallas, TX (PRWEB) May 15, 2012
As a site focused on engaging its readers, GraphicDesign.com published a controversial feature article this week, "The Sad State of Design 2012." Written by Neil Tortorella, "The Sad State of Design 2012" begins, "I've been at this design stuff for a while now. All in all, roughly 35 years, give or take. In that time, I've watched the graphic design profession slowly erode into a shadow of what it once was."
Tortorella's editorial begins by pointing out that in the 1960s and 1970s, "Designers had a seat at the Board table, so to speak. Our talents, skills, and opinions mattered and were seen as valuable to our clients."
Then, the advent of computers allowed everyone with tech-competency to call themselves a designer: "As designers, we find ourselves competing with the likes of an 11-year old who has some computer-savvy, an administrative assistant, and a client's next-door neighbor's nephew who 'does some really nifty graphics.'"
In the current era of graphic design, mediocrity could unfortunately be the norm. The article published exclusively on GraphicDesign.com questions, "When clients don't give a hoot about how their materials reflect their branding and positioning, what's a designer to do? Should we become swoosh-ready, clip-art toting graphic decorators, working for a buck-and-a-quarter, rather than strategically-thinking graphic designers?"
Can the glory days of graphic design return? Should GraphicDesign.com readers prepare for smooth sailing, or a rough ride? "My belief is that we have some work to do in educating our clients… about the real value of graphic design as a resource to help them reach their business goals if we are to survive as a viable industry," Tortorella summarized.
At the end of the article, readers face a simple question, the results of which will be released on May 20th at Midnight PT: "Do you believe that graphic design has been devalued by clients?" Those interested in the results of the "Yes" or "No" poll are encouraged to visit GraphicDesign.com on May 21st.
The GraphicDesign.com community has actively been discussing Tortorella's piece. One poster echoed, "I have around five years of experience in design and my two biggest challenges are cited above: lack of knowledge in everything and clients who say, 'good enough.'"
Several readers emphasized educating their clients. One such comment read: "I'd say it's part of our job as designers to educate our clients to the value of the service we provide and what impact it can have on their business."
One reader believes it's the designers who are the problem. "I've encountered all these scenarios and my share of jaded designers—but the problem is not clients. It's US. Excellent work is done for excellent clients. As professionals, we must assert our value and help our clients to understand it".
GraphicDesign.com will continue to publish interactive content regularly from its stable of skilled contributing writers. Visit GraphicDesign.com and weigh in on the future of the graphic design industry.
ABOUT GRAPHICDESIGN.COM
GraphicDesign.com is a product of Terran Marketing and a leading source of news and information devoted entirely to the graphic design industry. Employers, students, and freelancers come to GraphicDesign.com to read and discuss current news, information, and events in the graphic design industry.
CONTACT:
Julia Wild
Terran Marketing
892 East Steger Town Road, Suite #206
Rockwall, TX 75032
Phone: (540) 908-2195
E-Mail: julia(at)graphicdesign(dot)com