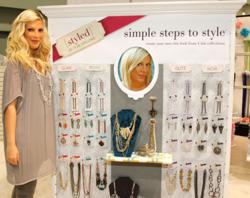 I love designing jewelry and I love crafting. With this line, I've combined both my passions.
Strongsville, OH (PRWEB) May 15, 2012
Styled by Tori Spelling is a new DIY jewelry making line that includes fashionable jewelry components and easy to use findings. Following a few Simple Steps to Style, customers can easily combine the affordable, interchangeable pieces to create their own unique looks. No tools are needed, and previous jewelry making experience is not required—making Styled by Tori Spelling perfect for beginner crafters and experienced jewelry designers alike.
Through the Styled by Tori Spelling line, Spelling aims to help unleash the inner designer in every customer: "I love designing jewelry and I love crafting. With this line, I've combined both my passions. I give the styles and tools, and women can use their creativity to design their own jewelry!" said Spelling.
Inspired by everything from vintage Hollywood glamour to boho chic, Spelling has designed fashionable jewelry components in four distinct collections for Styled by Tori Spelling: Boho, Glam, Glitz and Noir. Staying within a collection will make coordinating the pieces easy, but the pieces can be mixed between collections to match any outfit, occasion, or mood.
Styled by Tori Spelling is licensed to Darice, Inc., the largest manufacturer and distributor of craft supplies in the United States. Scott Catan, VP at Darice, says, "We are very excited about this partnership with Tori Spelling. Her passion for both jewelry and crafting has resulted in a special line that will allow customers to style their own personal jewelry looks with ease."
"The line is clearly an expression of Tori's creative directions," adds Darice president Mike Birkholm. "The Styled by Tori Spelling line is a must for anyone interested in making jewelry part of their personal fashion."
The Styled by Tori Spelling jewelry line is set to premiere at Michaels Stores, Inc., and JoAnn Fabric and Craft Stores the week of May 14th. It will arrive at other major craft & hobby retailers in June.
TORI SPELLING is the #1 New York Times bestselling author of sTORI telling, Mommywood, and uncharted terriTORI. She recently published the party planning book, CelebraTORI, which also debuted on the New York Times best sellers list. Tori is host and executive producer of the new TLC competition series Craft Wars, which premieres this summer. She is an accomplished designer with a distinct sense of style. Her latest jewelry designs from "The Tori Spelling Collection" are available exclusively at HSN and she recently launched her own line of craft products also available at HSN. She combines her love for designing jewelry and crafting, in her new DIY fashion jewelry line, Styled by Tori Spelling. Tori also offers ideas and inspiration for elevating everyday life at her ediTORIal online community, ToriSpelling.com. Tori is the star and executive producer of Oxygen's hit reality series, Tori & Dean: Home Sweet Hollywood and Tori & Dean: sTORIbook Weddings, with her husband, Dean McDermott. Together they have three children - Liam, Stella, and Hattie - and live in Los Angeles.
About Darice Inc.
Founded in 1954, Darice Inc. is the craft industry's premier wholesale distributor, serving many channels including craft, mass market, party, toy, drug and grocery stores. The company's key products lines include jewelry making, paper crafting, floral design, art supplies, kid's crafts and FOAMIES®. Darice's headquarters facility and 750,000 square foot distribution center are located in Strongsville, Ohio.