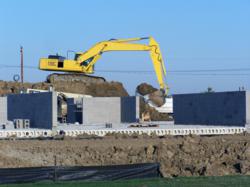 We have been building houses as a company for well over three centuries...
Basingstoke, UK (PRWEB UK) 16 May 2012
Website design for builders is becoming more and more popular as more people turn to the internet to locate builders, trades people and odd job men. Many house builders have found that websites are a very useful marketing tool for bringing in new customers and showcasing their work. This is why a house builder in Essex approached Marketing Quotes, as they had a very old website that was constructed in 1992. They were looking for help from website designers that could offer a great and creative design whilst communicating the message of being a long established and traditional building company offering a modern and up to date house building service.
A partner of the building firm stated 'we have been building houses as a company for well over three centuries and have found that the internet is an untapped resource. We are a traditional building firm with a modern approach to house building, incorporating eco friendly building methods to each of the bespoke houses we build. I guess part of what we needed was branding as well as a new website, as we need prospective customers to see us as more than 'just another builder' which is a message we hope to have communicated through the new website. We appreciated the help in finding a new designer, there are lots of website designers in Essex to choose from, so we were kind of lost with the choice.'
Anne Richards (who works with Marketing Quotes) added 'branding for builders is becoming more popular as more building companies catch up with technology. Many house builders do not even have websites, and many that do have not really touched them since they were created. We are pleased we were able to help, they look like a great building company and we hope that the branding work that is done does manage to communicate the message to their clients.'
About Marketing Quotes - Marketing Quotes is a free service to help UK businesses to get free advice and quotes from local marketing agencies that know and understand their industry.