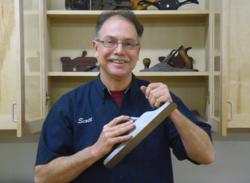 These are the best gift ideas for any Dad anywhere anytime.
Parkersburg, W.VA. (PRWEB) May 16, 2012
Scott Phillips, host of The American Woodshop on PBS, checked out Woodcraft tools and accessories and chose his favorites for Father's Day gifts. See some of his selections below or watch Scott share the entire list on his video by clicking here http://www.youtube.com/watch?v=5Ne4EiCUiVA.
HANDY HELPERS
Woodcraft 16' Fractional Tape Measure. This 16' long, 3/4" wide yellow metal tape is marked in feet and inches to 1/32", plus foot and 16" centers noted the entire length. Fractions are large and easy to read. (153359 $4.99)
Nebo 5" Redline 4X Adjustable LED Waterproof Flashlight. A compact light system, this programmable tool has five lighting modes: 220 lumens-100%; 110 lumens-50%; 22 lumens-10%, SOS signal, and road emergency flasher. An adjustable bezel converts it to a floodlight or clear spotlight at 150 yards. (851751 $32.99)
Hyskore Over and Out Tactical Stereo Hearing Protection NNR 24. For noisy projects, help Dad protect his hearing with these muffs that offer four modes of operation, including a music/communication option. (153223 $69.99)
Work Sharp Knife and Tool Sharpener. Dad can sharpen all his knives, as well as garden shears, lawn mower blades and a host of other tools, with this handheld, motorized sharpener. (151170 $69.95)
WOODWORKING PROS
BLOKKZ Universal Clamping Blocks. This unique clamping block system helps woodworkers clamp in a variety of situations, including miter, rabbet, splices, wide angle, and acute angle. Blocks can also be used as a hold-down with the addition of T-bolts and knobs (sold separately). (153789 $24.99)
WoodRiver® Planes. Standard & Low Angle Block Planes with Adjustable Mouth – Based on the Stanley #18 and #65 knuckle cap designs, these 20° and 12° planes can do work ranging from coarse to whisper thin shavings, thanks to their adjustable mouth. (151124 $94.99; 151125 $94.49) The V3 #4 Bench Plane – Based on the Stanley Bedrock design and featuring an adjustable frog, the #4 is perfect for smoothing and other light jobs that don't require the heft of a larger plane. (150874 $139.99) All three planes have high carbon steel blades.
Whiteside Router Bit Sets. Dads who build furniture will welcome these router bit sets. The 3-Piece Undersized Plywood Dado Bit Set includes 1/2" shank bits in three diameters: 7/32", 31/64" and 23/32" (150756, $55.99). The Rabbeting Bit Set includes a 1/2" shank rabbeting bit and eight bearings to make rabbets from 1/8" to 1/2" deep (143223 $62.49). The Shaker Profile Stile and Rail Bit Set offers both stile and rail bits (148047 $104.99).
Woodcraft Magazine. A subscription to Woodcraft Magazine will bring Dad new project, technique and product stories from woodworking experts every two months and become a valuable reference. ($19.97 one year; limited time offer – two years for $29.94)
SPRAYING HEAVYWEIGHT
Earlex Spray Station HV5500 HVLP. If Dad does a lot of finishing and/or painting, this spray station will be a welcome addition to his shop. The 5500 sprays a variety of paints, stains and coatings, such as deck and fence stain, sealers, varnishes, wood preservatives, enamels, oil and water-based paints and automotive paints, with a minimum of overspray. Cleanup is easy. (152797 $359.99)
PICK YOUR OWN GIFT
Woodcraft Gift Card. This "one size fits all" gift will let Dad choose his own present (or presents).
Purchase one or more of these gifts by contacting the Woodcraft store nearest you, visiting http://www.woodcraft.com or calling (800) 535-4482.
For more information about Woodcraft, the industry leader in providing a wide variety of top quality products, educational opportunities and one-on-one guidance to woodworkers of all skill levels, visit http://www.woodcraft.com. To learn about Woodcraft franchise opportunities, call (800) 344-3348, visit http://www.woodcraftfranchise.com or email woodcraftfranchise (at) woodcraft (dot) com.