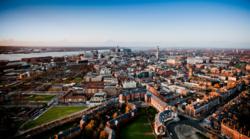 It's the start-up companies and small businesses that are going to get Britain back on the road to recovery, and clearly Liverpool is at the forefront of the charge
UK (PRWEB UK) 16 May 2012
Liverpool: The data, compiled from the official register of companies from Companies House, was compiled and analysed by Duport.co.uk shows that 337 new businesses were formed in Liverpool in April 2012.
This new record for formations made in April is an 11% increase on the previous record, which was set in 2007 at the height of the economic boom.
"It's astounding that Liverpool's entrepreneurs are breaking records in the middle of a recession," said Managing Director of Duport.co.uk, Peter Valaitis, "but it's the start-up companies and small businesses that are going to get Britain back on the road to recovery, and clearly Liverpool is at the forefront of the charge."
Liverpool's small companies have recently benefitted from additional financial support from Community Development Finance Institutions (CDFIs), through the Merseyside Special Investment Fund (MSIF).
CDFIs offer much needed financial support to small businesses that can't get the funding they need from banks or building societies.
These commercial loans are available for start-up companies that can show promise for growth and development. Chris Walters from MSIF stated: "The most important role we play as CDFI for Merseyside is to provide financial support and guidance for start-up businesses."
"While we acknowledge it is harder than it used to be for all businesses to access funding, the challenge for start-ups is greater than ever. The absence of any track record means they are often considered high risk, and therefore most in need of a shared vision and support.
"Of course, our aim remains to make considered investments which will create growth and leave a positive legacy for the local economy."
MSIF has invested an estimated £2million in 70 businesses as a CDFI, and with additional funds coming through the Small Loans for Business Fund throughout the year, Liverpool's start-up community could have the support it needs to be breaking records throughout 2012.
Duport.co.uk is a leading UK company formation agent, operating in the UK for around 15 years. Duport registers around 10,000 new companies each year using its Companies House approved software. The Company Register which is maintained by Companies House contains public information about Limited companies and directors.