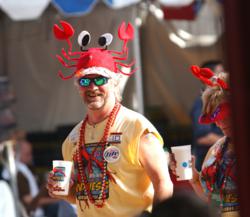 The annual event is recognized as one of the Southeast Tourism Society's Top 20 Events, drawing more than 50,000 people per day
Shreveport, LA (PRWEB) May 16, 2012
The 29th Annual Mudbug Madness Festival will take place Memorial Day weekend, May 24-27, in downtown Shreveport's Festival Plaza. The annual event, which is known for around-the-clock live zydeco music and Louisiana crawfish served every imaginable way, is recognized as one of the Southeast Tourism Society's Top 20 Events, drawing more than 50,000 people per day. CenterPoint Energy will return as title sponsor for the 14th consecutive year.
In addition to hot, boiled crawfish and a variety of vendors selling Creole and Cajun cuisine, the 29th Annual Mudbug Madness Festival will feature three stages of live entertainment, children's activity areas, an expanded arts area featuring original paintings, carvings, jewelry and crafts, street performers, crawfish eating contests, and more. Entertainment highlights on the MetroPCS Stage include Wayne Toups and ZydeCajun, Grammy-winners Chubby Carrier and the Bayou Swamp Band, Waylon Thibodeaux, Rockin' Dopsie and the Zydeco Twisters, and many more. For a complete schedule of live entertainment, visit http://www.mudbugmadness.com.
The Swamp Stage will feature popular music acts from Shreveport-Bossier and the surrounding communities, including Bushrod Jenkins, Johnny Earthquake and the Moondogs, Super Water Sympathy, and Windstorm.
The Kids on the Bayou Stage, sponsored by KSLA 12, will open at 11 a.m. each day and will feature clowns, kids' karaoke, singers, story-tellers, magic shows, hands-on art activities, and a giant sculpture that children can help create. Party Central will offer great games and face painting, 4 p.m.-11 p.m., Thursday and Friday, and 11a.m.-11 p.m., Saturday and Sunday.
Admission to the festival is free until 5 p.m. on Thursday and Friday, courtesy of KTAL 6. After 5 p.m. Thursday and Friday and all day Saturday and Sunday, admission is $5 per person. Children under 12 and military with ID are free at all times. Free shuttle service is available from Mall St. Vincent and Pierre-Bossier Mall courtesy of Citizens National Bank and Abita. Mudbug Madness Festival is a presentation of Downtown Shreveport Unlimited.
For more information on Shreveport-Bossier: Louisiana's Other Side, including area hotel and restaurant listings, visit http://www.shreveport-bossier.org or call 888-45-VISIT. For more information on the Mudbug Madness Festival, visit http://www.mudbugmadness.com.
NOTE TO MEDIA: A full digital press kit for the 29th Annual Mudbug Madness Festival is available at http://www.mudbugmadness.com/media-guide.
# # #