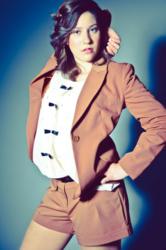 It's all down to her bubbly personality as well as her looks'
London, UK 16th May 2012 (PRWEB UK) 16 May 2012
A Model from Lincolnshire makes it through to the Miss England Qualifiers Beating off stiff competition from her peers.
Katie Isaac has been handed the dream modelling news most models can only fantasise about, that she has been selected as a finalist for Miss Lincolnshire 2012 and that the next stop for her could be the Miss England 2012 grand finale.
The 18 year old from Lincoln is understandably absolutely delighted, as are La Mode London, the modelling London commercial photography company proud of their own client's success, and sponsors for her entry into the competition.
'We are so proud of Katie', continues Helen. 'She's beaten off some gorgeous competitors to reach this stage and its all down to her bubbly personality as well as her looks.'
If Katie is successful she could win an official profile on the Miss England website, appearance opportunities as Miss Lincolnshire 2012, a portfolio shoot with the Fresh Academy and direct entry into the Miss England 2012 final as well as an all expenses paid two day stay at the Miss England final in June 2012. There is also the chance to win a styling consultation and personal shopping experience from Casey Paul Styling and a feature in their local paper.
When asked why she wanted to become a model, Katie said, 'since I started my photo shoots with a photographer who was local. Then I realised I wanted to make it more of a thing, so I decided to make a portfolio and apply for agencies and managements to do with modelling. I have only been modelling since summer 2011 and I would love to be a big model one day.'
It seems that maybe her big chance has now arrived with selection to a competition to represent not only her home county, but her country as well.
The finalists of Miss Lincolnshire is organised by Front Models, a national modelling agency specialising in hospitality and promotional work. All finalists are encouraged to raise money for the 'Beauty with a Purpose' charity which was officially established by Miss World last year and aims to help local and international organisations and projects across the world to help make a difference to the lives of disadvantaged and deprived people. Over the last three years the Miss England finalists have raised more than £200,000 for various charities including the Institute of Cancer, The Variety Club of Great Britain, Beat and the National Autistic Society.
Laura Coleman, Manager of Front Models, said, 'Fundraising for 'Beauty with a Purpose' is a fundamental element of the competition and all the finalists in both Miss Lincolnshire and Miss England are expected to make an effort to raise monies for the charity. Not only does the money go to support fantastic causes nationally, it will also be used to help international projects in third world countries. In it is a fantastic charity for all the finalists to be associated with and will look great on their CV in the future.'
'It's a really worth while beauty competition', say La Mode, ' not only for the models concerned but also for the charities that benefit.'
See Katie Isaac's portfolio at http://www.lamodelondon.com as well her dedicated website made especially for her by La Mode, the model advice experts.