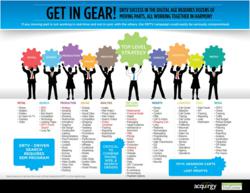 It's easy to overlook little things that can make a big difference.
St. Petersburg, FL (PRWEB) May 18, 2012
To help DRTV marketers get their arms around the complexity of producing short-forms and infomercials in the digital age, acquirgy today has published a "Get in Gear" infographic. Subtitled "DRTV Success in the Digital Age Requires Dozens of Moving Parts, All Working Together in Harmony," the graphic and commentary identifies ten categories and over 100+ strategies and tactics that need to be considered. It is available at: http://IG37.acquirgy.net.
"It's easy to overlook little things that can make a big difference," said infographic creator Irv Brechner, EVP of acquirgy. "Many DRTV marketers, for example, put a tremendous amount of time into the production of the commercial, but very little in thinking about issues like shopping cart abandonment, data feeds and supporting paid search," Brechner added.
Back in the days before the Internet, producing and airing an infomercial or short-form, collectively DRTV, was pretty straight-forward. You produced a show, purchased media, set up a call center, handled mail orders, and fulfilled orders. There were not many moving parts that you had to deal with.
Fast forward to 2012, where the 'Net is omnipresent, and running a successful DRTV program requires a great deal of strategy involving quite a few moving parts as illustrated in this infographic. Because most or all of your responses can occur online, and because of the endless number of options, technologies and decisions you need to make, planning and executing DRTV in the "digital age" is extremely complex and requires a lot of strategic thought.
About Acquirgy
Acquirgy (http://www.acquirgy.com) is an Acquisition Marketing Agency developing and executing accountable marketing programs driven by immediate and measurable response metrics across all digital and traditional platforms. Proprietary tracking systems integrate all transactional media, logistic and response data from all platforms to optimize client profitability