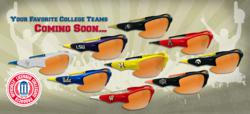 We are pleased to bring MAXX into the collegiate demographic, and proud to be able to supply affordable eye protection to fans nationwide". Rick Milner, MAXX HD CEO.
Monument, CO (PRWEB) May 15, 2012
Maxx HD® Sunglasses (MAXX) today announced that, through a licensing agreement with The Collegiate Licensing Company of Atlanta (CLC), MAXX will develop a line of sunglasses with matching school colors and insignias.
"These are definitely not just your traditional collegiate game day memorabilia. These are quality high-definition lens in the schools colors, that can be worn every day," commented Maxx HD Sunglass President Bret Milner. "Our collegiate line will be affordable but trendy".
MAXX HD® Sunglasses is proud to provide an extraordinary lens at a great value, giving our customers the chance to experience High Definition lenses at a reasonable price point. "MAXX is very excited about this new partnership with the CLC. The MAXX brand is synonymous with quality, affordability, and durability, stated MAXX HD® CEO Rick Milner.
It is estimated that the collegiate licensing market is approximately $2.5 billion annually. Initial rollout of the MAXX HD® collegiate sunglass line will begin in early summer 2012.