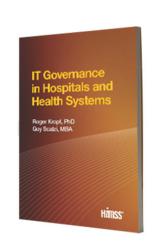 This book is very timely and one that healthcare leaders across the C-suite should read.
Denver, CO (PRWEB) May 16, 2012
Aspen Advisors, a U.S.-based global healthcare consulting firm, announces a new book co-authored by principal Guy Scalzi and Dr. Roger Kropf, a Professor in the Health Policy and Management Program at New York University's Robert F. Wagner Graduate School of Public Service. The book titled "IT Governance in Hospitals and Health Systems", published by the Healthcare Information and Management Systems Society (HIMSS), is the second book co-authored by these two healthcare IT leaders. It offers a practical "how to" guide to creating an information technology governance structure that ensures that IT projects supporting a hospital's or health system's strategy are completed on time and on budget.
"In this book, Guy and Roger define and describe IT governance as it is currently practiced in leading healthcare organizations and provide step-by-step guidance so readers can replicate these best practices at their own hospital or health system," said Nancy Vitucci, Senior Manager of Publications at HIMSS.
"With the number of competing initiatives on the priority lists of hospital executive teams such as Meaningful Use, ICD-10, and Accountable Care Organization structures and their IT implications, it's essential that a strong governance model be deployed to prioritize initiatives, align projects and capital spend with key organizational priorities, establish the appropriate champions and sponsors to successfully drive the top priorities forward, and define ways to measure results," said Scalzi, book co-author and Principal at Aspen Advisors.
"IT governance remains one of the biggest challenges in healthcare," said Daniel Herman, Managing Principal and Founder of Aspen Advisors. "Organizations continue to battle with the dilemma of having much more demand for IS services than supply and budget to service. Requests for new projects often arrive with ineffective mechanisms to manage project prioritization, funding, and resources allocation. IS then gets put in the position where they're overwhelmed, under-budgeted, and under-delivering."
Herman added, "This book is very timely and one that healthcare leaders across the C-suite should read."
About Aspen Advisors:
Aspen Advisors is a professional services firm with a rich mix of respected industry veterans and rising stars who are united by a commitment to excellence and ongoing dedication to healthcare. We work with healthcare organizations to optimize the value of their information technology investments. Our experienced team is highly skilled in all aspects of healthcare technology. We understand the complexities of healthcare operational processes, the vendor landscape, the political realities, and the importance of projects that are executed successfully – the first time. Every client is important to us, and every project is critical to our reputation. Established in 2006, the firm has grown significantly year-over-year and has earned accolades for our culture and growth. We were named an "Up and Comer" by Healthcare Informatics in 2010 and one of Modern Healthcare's "Best Places to Work in Healthcare" in 2011. Our hallmarks are top quality service and satisfied clients; we're proud of our KLAS rankings and that each past and current client is 100% referenceable. Learn more at http://www.aspenadvisors.net.
About HIMSS
HIMSS is a cause-based, not-for-profit organization exclusively focused on providing global leadership for the optimal use of information technology (IT) and management systems for the betterment of healthcare. Founded 51 years ago, HIMSS and its related organizations are headquartered in Chicago with additional offices in the United States, Europe and Asia. HIMSS represents more than 44,000 individual members, of which more than two thirds work in healthcare provider, governmental and not-for-profit organizations. HIMSS also includes over 570 corporate members and more than 170 not-for-profit organizations that share our mission of transforming healthcare through the effective use of information technology and management systems. HIMSS frames and leads healthcare practices and public policy through its content expertise, professional development, research initiatives, and media vehicles designed to promote information and management systems' contributions to improving the quality, safety, access, and cost-effectiveness of patient care. To learn more about HIMSS and to find out how to join us and our members in advancing our cause, please visit our website at http://www.himss.org.