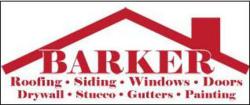 San Antonio, TX (PRWEB) May 16, 2012
The Greater Austin and San Antonio areas now officially boast a roofing company of three-time prestigious merit. Barker Roofing & Sheet Metal, Inc. received its third GAF Master Elite Excellence Award, completing the trio of accreditations offered by GAF, North America's Largest Roofing Manufacturer. The roofing company shares this accomplishment with only 85 other contractors across the nation, emphasizing a remarkable dedication to pursuing quality roof installations.
GAF's standards for bestowing roofing contractors with "Master Elite" status are decidedly stringent; only the top 2% of all contractors qualify. Recognized contractors must be fully licensed, show proof of adequate insurance, and stand out for providing GAF's standard of quality installations. Furthermore, companies must commit to ongoing professional training to stay updated on advances in installation techniques. Barker Roofing & Sheet Metal, Inc. routinely installs shingle, metal and tile roofs, all with practicality and cost effectiveness in mind.
Notably economical and long-lasting, metal roofing also reflects up to 70% of the sun's heat, lowering air conditioning costs for the homeowner. Barker Roofing & Sheet Metal can also install hail- and wind-resistant shingle roofing, and will complete the installation the same day it begins. Tile is especially complimentary to homes specifically designed for energy efficiency. Specialists lay down tile that is expected to withstand the life of the residence.
Barker Roofing & Sheet Metal, Inc. asserts itself as one of the largest and most successful roofing contractors in San Antonio and Greater Austin, and this most recent GAF recognition gives tangible support to that claim. In addition to its triple award-winning status, Barker Roofing & Sheet Metal, Inc. is a member of the Central and South Texas Better Business Bureau.
About the company:
Barker Roofing & Sheet Metal Inc. is a 3rd generation company that has been serving the Texas area for over 40 years. They are a member in good standing with several Chambers of Commerce and Builder Associations, and a member of the Central and South Texas BBB. They have established a reputation for providing practical, innovative, and cost effective solutions to meet the diversified roofing needs of their customers. Barker Roofing & Sheet Metal Inc. serves Texas from their Austin location situated on a thirty-acre site that houses their corporate offices, warehouse, and sheet metal shop. For more information visit their website at http://www.barkerroofing.com, or call 210-401-7663.