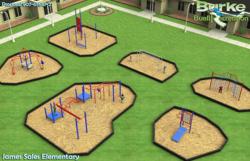 We are ecstatic that we assisted to make this playground a reality, and that it will be a resource for generations of students to play, exercise and enjoy with their families
Fond du Lac, WI (PRWEB) May 17, 2012
The sight of the new play area at James Sales Elementary School produced a simple yet powerful response from the students that helped create it recently--- "It is so beautiful," they exclaimed.
Principal Kristen Schroeder beamed with pride and excitement as the playground, designed and installed by BCI Burke professional playground representative Buell Recreation and landscape architect firm Jeff B. Glander & Associates, took shape with students, community members and parents lending support throughout the process.
Monies for the project were part of a dramatic reveal by the Ellen DeGeneres Show and Target Corporation in January that the school would receive a grant to improve active, creative, and constructive activities at the school and improve positive family traffic on our playground after hours, according to Schroeder.
The school was awarded the prize in recognition of the school's 12 Days of Hope program, developed by Principal Schroeder and school staff, aimed to nurture unconditional generosity to students in a way that supports positive reinforcement and compels the over 400 kindergarten through 5th graders to develop a greater understanding and appreciation for the practice of giving and receiving of themselves.
"We are ecstatic that we assisted to make this playground a reality, and that it will be a resource for generations of students to play, exercise and enjoy with their families," said Doug Buell, Buell Recreation President. "The most rewarding result is watching the kids moving, spinning, climbing and jumping. They are so engrossed in play they don't even realize they're exercising and doing something good for their young bodies," Buell adds.
Principal Schroeder describes the dynamic play area as "three pods with several different climbers and spinners. Each pod is unique and promotes physical fitness, strength development and balance. An asphalt walking track around the upper field and United Way "Born Learning" trail signs to encourage early education activities with parents and students, is incorporated into the play area. Additional fitness stations, a walking trail, basketball court and community garden are being planned for the next phase of the project," she said.
Buell Recreation, LLC specializes in commercial park and playground products in Washington, Oregon, Idaho, Utah and Nevada. They partner with manufacturers to offer the highest standards of integrity, safety and innovation and provide customized solutions for playground needs. To learn more, visit http://www.buellrecreation.com.
BCI Burke, with headquarters in Fond du Lac, Wisconsin, is a premier manufacturer of commercial playground, park and recreation equipment and an avid champion of engaging kids in healthy, challenging and safe play. More information is available at http://www.bciburke.com.