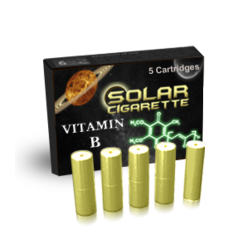 Get access to your own personal smoking buddy to help you stay committed and offer the VIP service you deserve while making the switch to a better lifestyle.
Hollywood, Florida (PRWEB) May 16, 2012
Smoking is a very difficult habit to break because of a couple main factors which are the overwhelming nicotine cravings along with the fear of gaining weight once the smoker quits smoking.
Since breakthroughs in technology, smokers are now able to win their battles against nicotine cravings and prevent weight gain in the process by using SolarCigarette.com vitamin packs.
Solar Cigarette has introduced it's electronic smokeless cigarette to the public and has given smokers a new way of smoking without all the deadly side effects that come with smoking tobacco cigarettes. Since these are smokeless cigarettes, smokers are now able to smoke in places where smoking has been banned without passing down second hand smoke to others.
Now Solar Cigarette has given smokers a chance to lose weight while they curb their nicotine cravings with the use of their new vitamin packs refills.
"The ever so life changing Solar Cigarette vitamin B pack. It's a one of it's kind cartridge pack, which allows you to receive your daily vitamins and nicotine with every puff. While many people think that vitamins are similar in structure and perform a similar function, the truth is that each vitamin B-complex vitamin has a unique chemical structure and serves a unique function within the body."
Read more at: http://www.solarcigarette.com/vitaminpacks
A representative of SolarCigarette.com states that not only does the Solar Cigarette help improve health and well being but with the use of the vitamin B cartridge packs, smokers will now lose weight since the vitamin B helps burn food more efficiently and turn it into fuel that the body needs while speeding up metabolism without the use of caffeine.
Solar Cigarette has helped many smokers turn a new leaf when it comes to kicking the tobacco cigarette habit and enjoying the fact that they have a better way of smoking that not only harms them but doesn't pass down harmful second hand smoker to other non smokers in the area. Now with the vitamin B refill cartridge packs, smokers will achieve 2 main goals and that is to lose weight along with curbing nicotine cravings.
Learn more about the Solar Cigarette vitamin Packs.